Everybody's Scalin' For the Weekend – 6x6x6, The Number of a Beastly Truck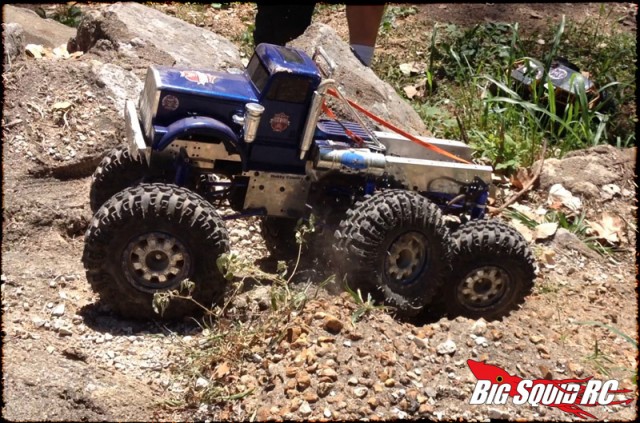 Exceed announced their RTR Mad Torque 6×6 last week and it's caused quite a stir in the scale/crawling community. Regardless of what you think of the actual truck (personally, I think it looks pretty cool) it shows that 6×6 trucks are growing in popularity. In many cases they are actually 6x6x6 (that means six wheel drive with six wheel steering). It's becoming more and more common to see one of these monstrosities out at your local bash/crawling spot. To this point they are all custom built but I expect to see those Mad Torques start popping up at club meets soon.
Most of the 6×6's I've seen locally are Tamiya Clodbuster based due to the simplicity of not needing to mess with extra driveshafts (Clods are motor on axle i.e. no driveshafts or central transmissions, the new Exceed is the same setup) but shaft driven stuff is gaining in popularity due to the availability of Axial axles and parts. The 2nd axle typically has two output shafts in which the backside connects to a standard third axle via driveshaft. It's not very complicated and just requires a few additional axle pieces and an extra set of shocks to hook up to the back of the frame.
The colossal truck in the picture above deserves special recognition as it has become something of a local legend here in St. Louis, MO. It belongs to my good buddy Dan Ryan and is always the most popular vehicle with drivers/gawkers when he has it out. It uses a custom chassis with trick aluminum Clodbuster axle housings. Power is supplied by three Tekin ESCs, three 45 turn motors, and an 8 channel radio (!). The tires are gargantuan RC4WD 40 Series Roc Lox that tower almost 9 inches off the ground and all three axles steer. That kind of rubber needs big torque so 400 oz servos are equipped on each axle. It's topped off by a Tamiya Bullhead cab and tips the scales at a whopping 20 lbs. Whenever we hook it to a pulling sled we have trouble finding enough weight to stop it! Even a Traxxas Summit looks like a puny vehicle in comparison to this big rig.
A conservative pricing estimate places this truck just north of $1,500, but that doesn't include all the blood (and I literally do mean blood…when this thing falls off a hill it freaking hurts to catch it), sweat, & tears. If you are hoping to see video of this big boy in action then soon you will be in luck! I hope to launch a scaling video series very soon as a sort of companion piece to this column.
A six wheeler like Dan's is a nice mix of engineering, redneck ingenuity, and sheer lunacy…basically everything scaling is all about! I'd also like to give a shout out to Dan for hooking me up with the Big Squid crew last spring. If not for him I wouldn't be able to waste several minutes of your work day each week! I hope everyone has a great weekend and be sure to check back next Friday where I'm taking a look at my favorite niche of hardcore scale R/C…truck and tractor pulling!