Everybody's Scalin' For the Weekend – A Challenger Appears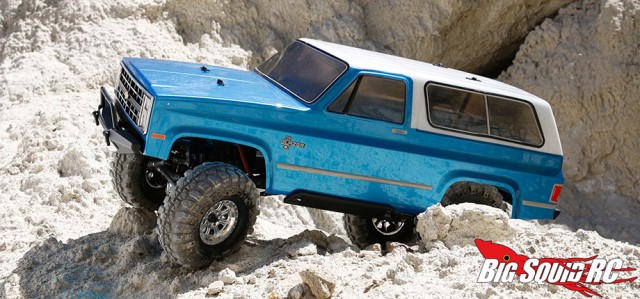 Our hobby has seen it's fair share of great rivalries. Back in the day Tamiya and Kyosho duked it out in a battle for monster truck supremacy. Associated, Losi and the aforementioned Big K have been waging war on the race track seemingly forever. When it comes to bashing it's been Traxxas versus….well, everyone I suppose (at least for the last decade or so). It's looking like another great rivalry could be on the cusp of happening – Axial vs. Vaterra in the crawling arena. (Note – RC4WD is also popular but I'm not counting them because they make aftermarket parts for other manufacturers in addition to offering their own kits).
Oh sure, Vaterra has been releasing vehicles for awhile now, but nothing like what was announced last week: the Ascender K5 Blazer. The rig has the scale crawling segment all hot & bothered and it looks like Axial's SCX10 line could see its first true competition for market share. By now many of you have probably seen the press releases and all that, so let's cut through the BS and talk about why certain features have scale 4×4 enthusiasts excited. Click the "Read More" below.
Vaterra has been carving out a nice niche with their line of bashing vehicles. Where the Twin Hammers was more a rock racer / do-all type vehicle, the Ascender is their first true scale crawler. The list of features makes it very obvious they've spent their time listening to the request list of hobbyists before jumping in the ring. Here's a list of the features I'm most excited about:
Chevy K5 Blazer body – This is obvious, they picked a killer rig to model this off of. Vaterra has quickly become second to none in the body department and the Ascender keeps the hot streak going. It's no secret that people are growing weary of Jeep bodies so picking a classic bowtie style that hasn't been done to death was a slam dunk IMO. The Blazer body couples a standard lexan getup with a Tamiya style injection molded grill insert. Very cool. I also dig how the wheels tuck under the fenders.
Adjustable Wheelbase – Yeah, you can adjust the wheelbase on most scalers by swapping out your 4 link bars but that can be expensive or time consuming. The Ascender comes with four different wheelbase configurations so most of the popular 1/10 scale truck/SUV bodies will work with the chassis.
Chassis Mounted Steering (CMS) with Panhard Bar – I love that this is a standard feature. The servo is mounted up high on the chassis and uses a drag link attached to the knuckle for steering. This looks great and also keeps the servo outta the muck.
Scale Axles – The axles look realistic, what-with scale appropriate pumpkins and all. It remains to be seen how they will hold up, but they sure look nice.
It's a Kit – Yeah, RTR's are great for the hobby and keep it afloat but I'd by lying if I told you I wasn't jacked that this is being released as a kit first. All the included hop-ups are icing on the cake (aluminum links, metal gears, high clearance knuckles, front CV shafts).
As Vaterra prepares to step in the ring with the heavyweight champion of the rock crawling world (Axial), just remember that the real winner is the hobbyist. Competition between manufacturers is ALWAYS good for the consumer. The Axial SCX10 has earned its stripes by being a proven rugged, high performance machine. The Ascender definitely has its work cut out for it. But hey, who doesn't love a good rivalry?
For the latest Vaterra news click this link. For more scale r/c news on BigSquidRC you can click here.