Everybody's Scalin' For the Weekend – Backpack, Backpack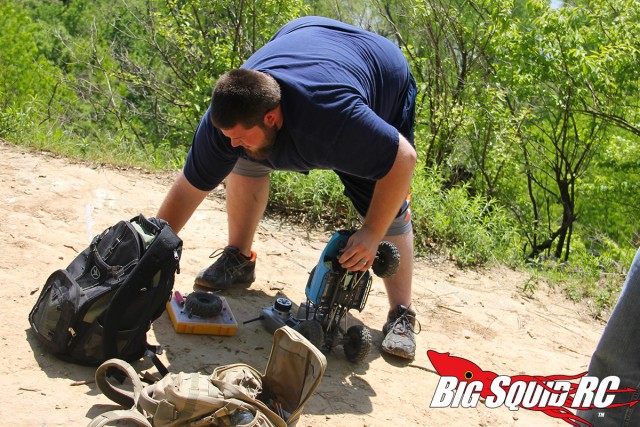 The passing of Memorial Weekend means the unofficial start of summer. It also means scaling season is now in full swing! In an ongoing effort to educate newbie scalers, here's a quick guide to something many people overlook until they are broke down in the woods – a backpack. I know I've mentioned a backpack in passing before, but I recently solicited my scaling club for a consensus on what to pack. The resulting list is what everyone agreed on. I didn't include spare parts because this is a general guide, but obviously packing things like extra driveshafts, c-hubs and knuckles  (these are the most common broken plastic parts on Axial trucks) will never hurt.
Hex/Screw Drivers – This is the most important thing on the list. No matter whether you are driving a bone stock Tamiya High-lift or a Vanquish'd out competition Axial Wraith, a loose screw can stop them all in their tracks. Make sure you carry 3 or 4 vehicle appropriate drivers. Blue thread lock is also not a bad idea. If you don't have a good wrench set at least make sure you take some allen wrenches.
Wheel Wrench – Much like a good driver set, this is crucial. You may need to remove a wheel to makes a repair or tighten up a nut that's loose.
Magnet – This may sound like an odd thing to have initially, but when you inevitably lose a screw or misplace a body clip (very easy to do in dirt or grass) a small magnet is invaluable.
Needle Nose Pliers – A set of pliers has saved me numerous times when something has become tangled in the drive train. If you run anywhere near large bodies of water you will probably experience a nasty case of fishing line tangle at some point (trust me, you may not see it but it's there). The same thing goes for roots and weeds when running in densely wooded area. Oh, and you may need them for field repairs.
Knife – A good knife is always handy. It's also great for getting your vehicle out of really nasty tangles like moss.
Duct/Servo/Electrical Tape – I've (hilariously) seen vehicles make it back to the trail head multiple times by the power of the all mighty duct tape. From busted four links, broken shock caps, and even pretzeled driveshafts, duct tape can get you back without making a walk of shame. Servo tape is necessary for when you electronics come loose, and electrical tape can patch up wires or in some cases even patch up de-soldered lead.
Zip Ties – Much like a good roll of duct tape, zip ties are great for "in a pinch" field repairs.
Extra Battery (if lipo have a safety sack) – Always good to have extra juice in case a battery dumps or you decide to play an extra long time. Most scale off-road trucks can last an hour or two with a single 5000 mah pack (most average powerplants), but this can deplete much faster if you are using a lot of wheel speed.
Bottled Water – It seems this is what most people forget. A truck that starts getting hot can be turned off to cool down but you don't have that luxury. Stay hydrated!
A Friend With a Backpack Carrying All of the Above – If you have this you can skip the above suggestions. What, you think I'm joking?
For more scale news on BigSquidRC click here.