Everybody's Scalin' For the Weekend – Gmade Sawback Impressions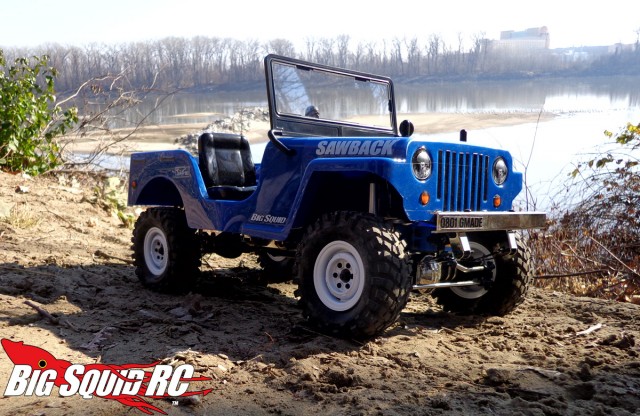 Two weeks ago I got word from my hobby shop that, lo and behold, my Gmade Sawback had finally arrived. I wasted no time in picking it up and starting to wrench. After the build was finished, I tested it out over a variety of different terrain. While this isn't a true review, with so many scale off-roaders wanting to find out if this truck is worth their time (especially with Christmas coming up) I wanted to post some detailed first impressions.
Being a completely new kit, I expected the gremlins you typically find in early production runs (misdrilled holes, missing parts, etc.) but was pleasantly surprised to have the whole thing go together very smoothly. The instructions were detailed and all parts were present. Having Phillips hardware instead of hex is pretty lame, but it wasn't as bad as I initially thought because at least the screws weren't the cheesy "will strip if you look at them" variety. For those wondering about electronics, I used a Savox SW-0230MG Waterproof Servo, Axial AE-2 ESC, 27t motor, and a Spektrum SR3001 receiver. I also painted the wheels white, put 3 oz of lead weights in each front wheel and topped it off with an action figure in the driver's seat (a Demoman from Team Fortress 2).
Listen, I totally expected this thing to be more of a shelf queen than a rugged trail truck…but it appears I was way off in that line of thinking. I have bashed this truck on the beach, wooded trail, rocks, creek and construction yard, and it's handled them all with ease. Despite having a very scale leaf-spring suspension, the Sawback still has plenty of travel and can hit lines you'd never think it would be able to. The included tires are soft and work well but are too small for my taste.  I wound up ditching them for some taller Axial Trepadors that I had lying on my bench and it really helped performance due to increased ground clearance. The drive shafts are thick plastic with screw-through design and seem to be holding together very nicely. I'm running 2S lipo and have had no problems and I have a friend with one that runs a 35t motor on 3S (a popular crawling setup) and the drive train has held up just fine.
The truck does have negatives. As I mentioned before, the Phillips' hardware isn't cool and the truck is too heavy and stiff to be a good all-around basher. If you plan to jump this rig I hope you are ready to purchase new leaf springs because it wasn't made for that style of driving. It also doesn't perform as well on the rocks as a 4-linked truck (i.e. Axial SCX10).
That being said, from a scaler's point of view, this truck is great. I've been very impressed with the durability, looks and performance. I know of several other "early adopters" who share similar opinions. Many hobbyists aren't familiar with Gmade, but, given the buzz the truck is creating amongst the scale community, I think the Sawback changes that.
So what's next? I'm preparing the Sawback for a club Top Truck Challenge next month, where it will be put through the meat grinder of mud bogging, rock crawling and truck pulling. I'll be chronicling the whole thing in this very column, so be on the lookout for that soon. Have a great weekend and remember to stay dirty my friends!