Everybody's Scalin' For the Weekend – Hot Doggin'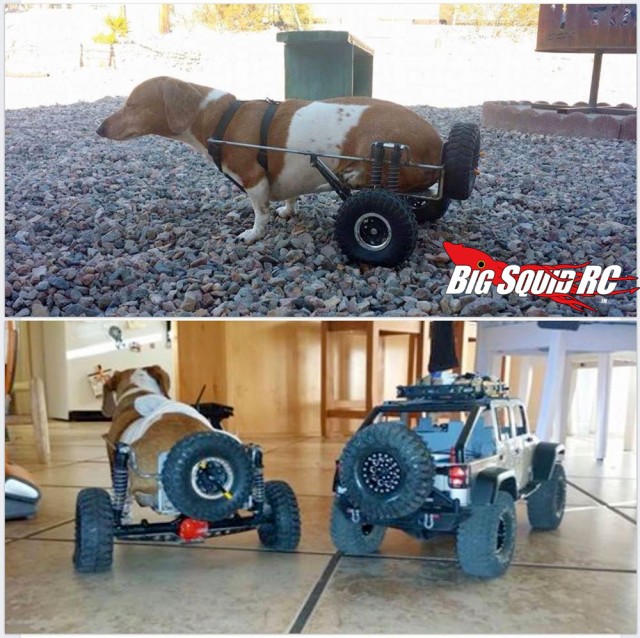 Axial shared the above photo the other day on their official facebook page and it has since spread like wildfire across the interwebs. While I wouldn't just normally shamelessly lift something from there, this is something you all should see. Apparently the owner of a paralyzed dachshund took matters into his own hands to outfit his little buddy with a special wheelchair utilizing various crawler parts. This pup now sports a solid rear/IFS setup similar to an Axial Yeti! Seriously though, very cool.
Big stuff going on over here at BSRC. iHobby is right around the corner and you will not want to miss out on what we have in store. You folks are gonna dig the product announcements! While I sadly won't be up in Chicago with the crew, I will be engaging in my own form of wackiness the following weekend. On Saturday October 11th in Granite City, IL I'm hosting a big scale monster truck race and demo at the Bigfoot 4×4 "Monster Truck Spooktacular & Open House". It's a pit party during the afternoon featuring a car crush, custom truck show, battle of the bands and aforementioned r/c monster madness. At night all the side acts will clear out and the Bigfoot boys are putting on a monster truck show. It's gonna be a blast! Here's the info flyer: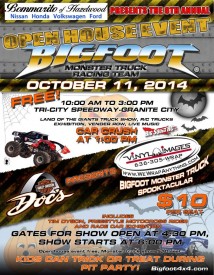 If you are wanting to race a scale monster with us you can check out our rules here, or just bring whatever (buggy, crawler, etc) and bash it when we aren't racing. Feel free to shoot me an email if you have any questions about the r/c portion: doug at bigsquidrc.com. Due to the nature of the event it's sorta gonna be "by the seat of our pants". Whether you bring a truck or not, make sure to say hello and nab a few BigSquidRC stickers from me! I'll be the guy walking around in a BSRC t-shirt with a confused look on his face, clipboard in hand.

Using that as a thinly veiled segueway, I spent last weekend working on a new project which I'll write about as soon as I've had the time to properly work it over: a new Tamiya TXT-2. This truck is going to be a dedicated monster truck racer/freestyler and will make it's debut at the open house. It's sporting a Castle brushless system, custom Pro-Line C10 Chevy body with classic USA-1 livery (that was a fun body to do!), and I already ditched the stock tires for legit monster paws.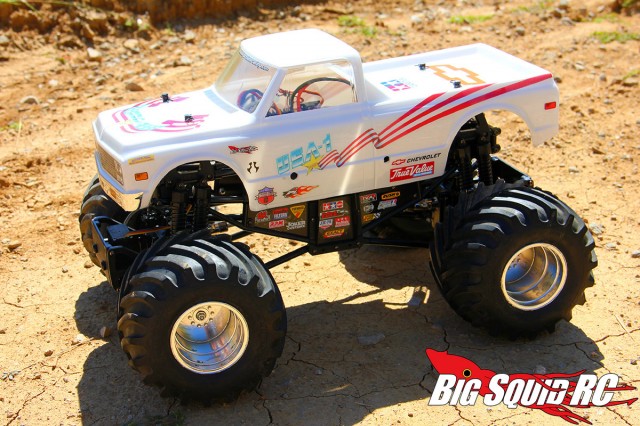 It was a relatively big week for scaler news. Pro-Line announced two new sharp looking domestic pickup bodies. RC4WD joined the fun by releasing a trick new hard body AND super cool scale engine that houses your motor. I've also seen that Vaterra Ascenders have started reaching hobby shops. Two of my friends just got their kits in at the LHS and I'm hoping to scope one out very soon.
Hope everyone has a great a weekend! I'll be checking out my first top fuel race Saturday as the NHRA is in town (I'm PUMPED) and then on Sunday I'll be getting my scale on with the Roughneck Scalers at a big charity crawl near Troy, MO. Until next time!
For more scale r/c news on BigSquidRC you can click here.