Everybody's Scalin' For the Weekend – Hot Rodding an Axial SCX10 JK Part 1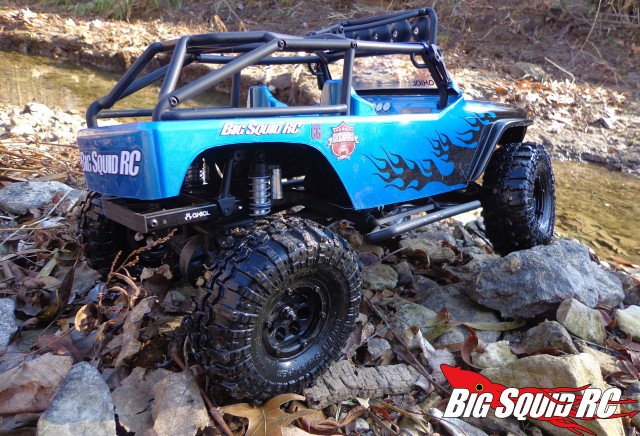 The virtual ink hasn't even dried yet on our review of the Axial RECON G6 SCX10 but it's time to talk upgrades! When I mentioned I was building it a few weeks ago in this very column, I said I had big plans for it. Well, it's time to discuss said plans.
The first thing I did was switch out the stock wheels and tires for a set of beastly Pro-Line Swamper XLs mounted on Axial beadlocks with 3 oz of weight in each front. The memory foam that comes with the Swampers works well, but I went ahead and splurged on a set of Crawler Innovations closed cell foams to better support the weight of the rig and avoid flat spotting. The addition of the tires was profound; the truck looks gnarly, has better ground clearance, and the big lugs make quick work of most terrain.
The next thing I'm going to be doing is swapping the stock ring & pinions for a pair of hardened Axial beveled gears. This will increase durability while eliminating slop. I'm going to use the overdrive (OD) gear set in the front and underdrive (UD) in the rear, which will cause the front tires to spin slightly faster than the rear. This eliminates torque twist, allows for a tighter turning radius and (most importantly) since the front "drags" the rear, it really helps its vertical climbing ability. (NOTE – If you don't understand OD/UD, fret not, I'll be doing a full explanation in a future column)
Oh, but I'm just getting started. The ultimate goal of this project is to compete and complete the St. Louis RECON G6 event coming up on Saturday April 12, 2014. This is a good start, but I still have much work to do before then! Part 2 of this build will include new recovery gear (hello scale Warn winch!), waterproofing the ESC, installing a functional light bar, and adding a driver!