Everybody's Scalin' For the Weekend – How Stella Got Her Sawback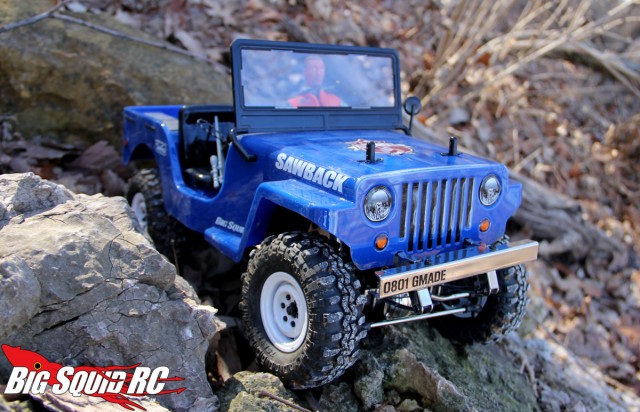 When I posted my first Everybody's Scalin' video on our YouTube channel a couple weeks back, user "Bad Wobble" asked if I could provide an update on my Gmade Sawback. Well Mr. Wobble, it's your lucky day! The "first impressions" article I wrote went up a few months ago (view it right here), and in the time that's passed I've put a few miles on the odometer. Time for an update.
You may of noticed I switched drivers and tires since last time. Yeah, the first driver I picked was a little small (people didn't hesitate to let me know this, heh) but the new "Hunter Dan" figure from Cabelas is just about right. I had to make a few modifications with my dremel to get him to fit (Dan no longer has feet) but now he's perfect. The second big change was putting on a set of Pro-Line TSL's (the smaller ones, NOT the XL's) as they perform extremely well and look great.
I guess the biggest news to report is that there isn't much news to report. My initial thoughts are still pretty much how I feel today. It's not going to replace your Axial SCX10 but it's still a stout little truck. The only problem I had with mine were the stock driveshafts – the yokes are pretty weak and snap easily. I replaced them with Axial Wild Boars (they are a direct fit) and I haven't had any problems since. Despite the transmission being loud as heck and the ring and pinions being made of a cheap pot metal it's held up fine with no other breakage to report. My leafs are still springy with no sag and provide good articulation for what they are. The axle hop that happens when fighting for traction on certain obstacles really adds to the overall charm. You can see what I mean in the video I linked above. I'm not trying to give this a free pass for having a stiff suspension…but come on man, that's kinda what you are paying for here. You want an authentic experience and it gives it to you – I've had my teeth rattled driving a 1:1 1942 Willy's MB and I'd imagine Hunter Dan would probably be able to relate.
All in all I really enjoy the Sawback and it's found a permanent spot in my collection. It handles very realistically and is great fun when trying to tackle the terrain accordingly. A hardcore bashing scaler this is not though, so if you want an all out performance machine you should look elsewhere. For the hobbyist that loves the iconic look of the classic Jeep and/or that wants to dip their toes into the waters of extreme scale suspension I think you'll be happy.
Want to see more Gmade news? Click here.