Everybody's Scalin' For the Weekend – I Fought Gelande and Gelande Won
Happy Friday! I hope everyone out there is in as good a mood as I am. The weather is FINALLY turning around, my beloved St. Louis Blues just landed a star goalie (Ryan Miller), my favorite band just released an awesome new record (Drive-by Truckers), my favorite game has a sequel coming out in a couple days (Dark Souls) and I have an RC4WD Gelande 2 on the way! Yes, a great week indeed.
RC4WD announced the Gelande 2 (G2) last year and it's been on my "to-do" list ever since. After recently finishing up a few different builds I'm finally ready to give this thing a whirl. I'd show some unboxing photos but the kit is still enroute to my LHS for pickup. Hopefully next week I can show it off. I already have 2 scale Jeeps in my fleet so I'm pretty pumped to add a "Landy" to the collection. I can't wait to build it up and post my impressions and some video.
For you whippersnappers out there, the G2 kit is based on the legendary Land Rover Defender Ninety (D90). Just hearing "D90" brings to mind images of a bright yellow truck tearing through the jungle or driving through a river with water up to the windshield (thanks to the Camel Trophy Series, more on this in a minute). Whereas the American born Jeep has always exuded more of a macho aura (open top, removable doors, big tires), the British Land Rover gives off a more a more refined aura (simple box design, very tall with lots of cargo space/extra seating). This used to be the case at least. Anyways, the kit looks trick what with a chassis mounted servo, front mounted motor that feeds into a transfer case, and that super detailed D90 hardbody.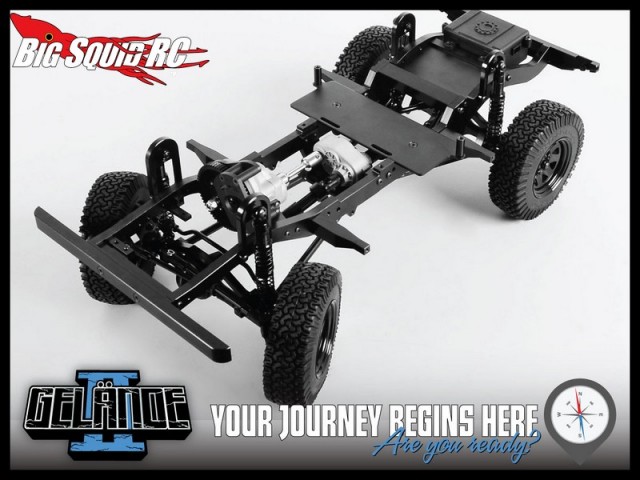 For many people in my age bracket (I turned 30 last week) the Land Rover is synonymous with the aforementioned Camel Trophy Series. The series ran annually throughout the 80's and 90's and was a wild cross country race pitting man and machine vs. the elements. The location changed every year (frozen wastes of Siberia to the jungles of the Amazon) but the one constant was the brand of vehicle: yup, the Land Rover. I used to catch clips of the race when watching old motorsports highlight shows and thought it was the coolest. If you want to waste some time on your Friday, check out this old series documentary on YouTube. They put these trucks through pure hell!
The Camel series was actually a very big inspiration for the r/c Axial RECON G6 Adventure Series. Next week look for my interview with series founder/director/scale freak Brian Parker as well as information on the upcoming April 12 St. Louis stop of the tour (of which Big Squid will have a big presence). Have a great weekend!
Want to see more scale r/c news on BigSquid? Try right here. Want to see the latest RC4WD goodies? Hit up this link.