Everybody's Scalin' For the Weekend – I Wish I Was Waterproof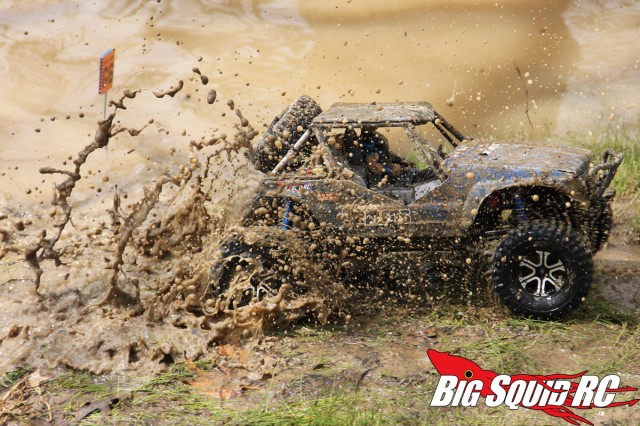 Here's a little secret for some of you guys – just because a vehicle isn't "100% Waterproof®!" from the manufacturer doesn't mean it will explode the moment it makes contact with the wet stuff. Many scalers work just fine in axle deep water without any modification whatsoever. I've blown way more stock servos on rocks than I have in shallow water (none). Don't be afraid to dip those tires in and get wet. Keep the water below your wheel nuts and most likely it'll be fine without any modification. If you're a river/mud rat like me though, you'll need to do some upgrading.
Let's start with the servo. Most scalers have the servo mounted directly on the axle and therefore it's close to the ground. This makes it the most important thing to modify/upgrade first (IMO). You can seal one fairly easily by using silicone or opt for a nice waterproof unit. I recommend rocking the Hitec HS-5646WP (wrote about it here). It's got a good amount of yank and has a street price of $54.99. I run it on all of my trail/mud trucks and it's a quality product at a good price.
Up next is electronics. I think every major scaler currently on the market has a water resistant receiver box, but if you plan on boggin' go ahead and wrap the rx in a balloon for an added layer of protection. A balloon is my method of choice for wrapping up the ESC as well. If you are geared conservatively you shouldn't have a problem with heat. I recently ran a 3 hour RECON G6 with a ballooned Novak Timbuk 2 / Ballistic 18.5 Crawler system and it never got noticeably hot. I use a sealed plastic bag in my mega truck and it's worked fine. Check out the pics of both below.
Speaking of brushless systems, if you are using a sensored one (and you pretty much have to for crawling) the sensor ports are going to be trouble. Back when we did our review of the Axial RECON G6 SCX10, Tim and Cubby got waterlogged because when I built the truck I didn't bother sealing the sensor plugs and the snow did it in. Luckily it worked fine after drying out, though. After the review I used liquid electrical tape to seal both plug connections and it's worked swimmingly (pun intended) ever since.
Sealing your axles is wise if you want to make sure your internals stay gunk-free. Marine bearing grease can be had on the cheap at many auto parts stores (a small tub will be more than enough) and you simply just pack the axles with the stuff. This keeps the muck and water out and assures that your axle guts will stay well lubed and rust free.
One last piece of advice for those of you looking to get your swamp buggy on – make sure you have some type of air source (compressor or canned) to blow off the vehicle after use. Pay special attention to your exposed bearings. If they aren't sealed (another recommended upgrade) you need to keep them clean to avoid seizing. It's also a good idea to hit the metal parts with a shot of WD-40 to avoid rust. If you do wind up with rusty screws just shoot them with a little Blaster Penetrating Catalyst (or other penetrating oil) and that should knock it off. Now get wet ya scallywags!
For more scale news on BigSquidRC you can click here.