Everybody's Scalin' For the Weekend – Oh, You Wanna Drag?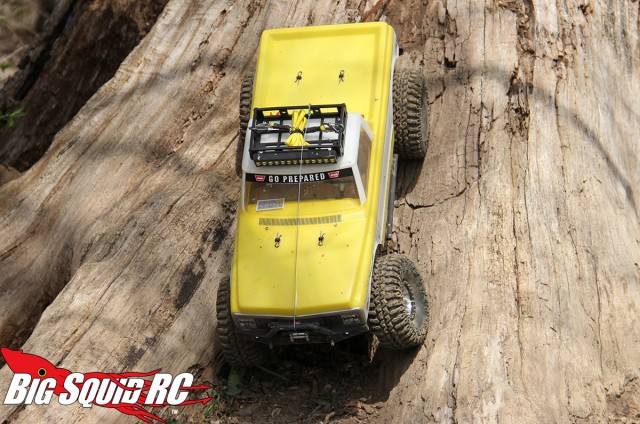 Drag brake is one of the most important and subjective things you'll deal with when getting into scale crawling. Some guys like a ton, some none at all. So what is it?
Simply put, drag brake is the amount of stopping power applied when there is no throttle input on the transmitter. It's measured in percentage. 20% DB means that when you aren't on the gas the vehicle is getting 20% of the standard full brake input. For a basher or racer you can use a mild DB to help a truck that wants to flip over backwards when jumping stay more neutral in the air without having to manual apply the brake yourself. It's important in crawling because when you are climbing over an obstacle at slow speed you won't just roll off if you let go of the throttle. (Bare in mind the motor factors into the equation as well, as mills with stronger magnets will hold better than weaker ones…but that's for another piece.)
Competition crawling vehicles famously utilized crazy amounts of DB when that scene was hot. It would take a tow truck to move one of these rigs when there was no throttle applied. This works great when trying to adjust your line on some gnarly rock, but as crawling vehicles are being asked to do more nowadays the philosophies are starting to change. If you are rocking down the trail with 3S power and a front weight bias, ya know what happens when you let off the go-stick with a ton of DB enabled? You are gonna go a$$-over-tea kettle. Even if you don't have bookoo power, descending a hill can be a chore when the truck jerks to a stop every time you let off the gas.
All decent ESC's allow customization to control the amount of DB (dedicated crawling ones generally have the higher available settings) by either using push button programming or manually hooking it up to a computer (Castle Link, for example). I strongly recommend playing around with different settings and see what you like best.
When I started out with my first Axial truck a few years ago I was using a system with 90% DB (mated to a high torque 55t brushed motor) and it drove me mad. I kept with it because I thought "well, that's what crawlers are supposed to be like". That's hogwash! I generally now roll with around with 40-50% DB and love the way it feels.
I like having a "looser" ESC setting so my truck doesn't completely lockup when coming off throttle. Being the big fan of hill climbing that I am, I like how the truck will gradually descend a hill by itself with a lower DB versus having to burp the throttle manually (and therefore jerk back to a stop) with a heavy setting.
Is mine the "right way"? Absolutely not! There is no right way, only YOUR way. Don't be afraid to experiment with your drag brake setting. It can wildly change the way your rig handles the trail. You may want ludicrous stopping power, you may just want a smidge. Grab your manual (or download a PDF, all reputable manufacturers have product manuals online) and start tweaking! You can always go back to the default setting later, after all.
So your backwater ESC doesn't allow customization you say? Well you're in luck. With the holiday season fast approaching I'm in the preliminary stages of putting together a big piece on popular brushed AND brushless crawling/trailing setups for you folk looking to make an upgrade. It's going to have stuff for both penny pinchers and Scrooge McDuck types. Look for that to drop later this fall.
Until next time, have a great holiday weekend. And remember, if you are in the Chicago area you should come on out to our Back to School Bash taking place!
For more RC Rock Crawling news on BigSquidRC you can click here. For news of the scale variety why don't you check this link out.