Everybody's Scalin' For the Weekend – Ramble On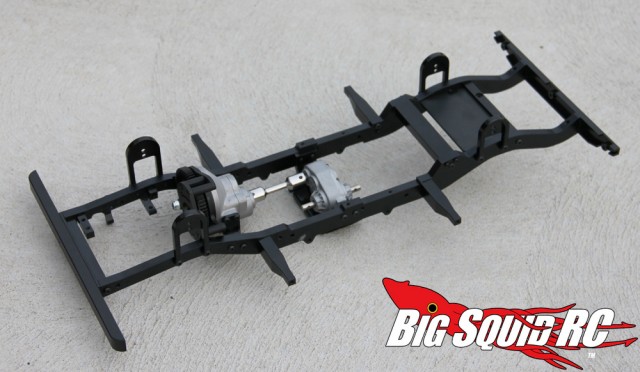 It's been a very busy week over here so forgive me for being a bit scatterbrained! TGIF indeed.
As the pic above shows, I received my RC4WD Gelande 2 and have started the build. Thus far I've been very impressed with the kit. Everything was laid out in well marked screw bags or packed neatly in foam (many of the pieces are pre-assembled like the tranny, axles, and transfer case). The truck is loaded with metal goodies and the machine work is all top notch. The super detailed body feels way lighter than I thought it would be. Hopefully the heavy chassis and (relatively) light hard body make for a rig that isn't too top heavy. I'm gonna finish her up this weekend and test it so look forward to some hot Land Rover action gracing this virtual space next Friday.
We just posted our review of Carisma's Porsche 959 Rally and I strongly recommend you take a gander. Watching a big on road car being hucked repeatedly off a ramp is pretty impressive. Yes, Tim, Cubby, and the rest of the Bash Crew pounded the car and it took it like a champ. It's becoming harder and harder for your scale columnist to resist splurging on a rally car, and doubly so with kits like that gorgeous Porsche readily available.
RECON G6  is coming up really soon here in St. Louis (April 12) and with my club "playing host" we have been putting in a lot of work getting the grounds ready for the influx of scalers. There is going to be a "Big Squid RC Driver's Challenge" series of special gates on the course that I'm overseeing and I hope to give you a tease of that next week as well. It's going to be comprised of several man made obstacles and a muddy frame twister section. Drivers are going to hate me!
And finally, forgive me for treading on Kevin's territory but I want to talk helicopters for a minute. So I had been thinking about getting a quad forever when our latest quad shootout article went live (please note, I did not take part in the shootout, only edited the video and read the article). That kicked me over the hump and I decided to purchase the winner, the Ares Ethos 130 QX. I headed down to my local Hobbytown USA and plunked down the $100 to finally get my fly on. I'm a total noob to aerial r/c but this copter has been a joy to fly from day 1. The toughness of the platform cannot be understated – I've flown it into buildings/trees, it's had several scary 100+ foot drops, and my 3 year old has had a few wrestling matches with the garage ceiling (the ceiling is undefeated FYI). You know what's broke? One LED. It's one rugged S.O.B. I'm definitely still a landlubber but in 2 months of owning the Ares it's been nothing but good times.
Hopefully Spring has sprung wherever you live so you can get out and bash this weekend. It's 70 degrees here so I'm counting down the minutes until I can leave the office and hit the rocks. Til next time!
For more scale r/c news on Big Squid click here.