Everybody's Scalin' For the Weekend – RC4WD 1.9 Mud Slinger 2 Impressions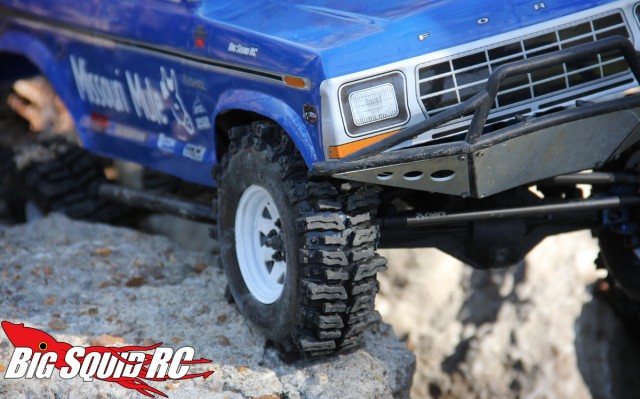 When it comes to scale tires I have "Pokémon Syndrome". I just gotta catch em' all. When RC4WD recently announced they were updating their classic Mud Slinger tire I knew I had to try them. The original Mud Slinger was one of the first scale tires that came out when the genre started getting hot. While the tires are technically unlicensed, they are inspired by a 1:1 Super Swamper Bogger.
So what's new with this version vs. the original? The first is size. The old one was around 3.66" tall whereas the Mud Slinger 2 XL (part #Z-T0121, $25 a pair) is 4.21". The second is the new ones are made of RC4WD's soft X2-SS compound (the old ones were harder). To complete my "old mud truck" look I mounted them on some white steel wagon wheels.
The soft compound makes the big lugs very pliable and they grip most surfaces with no problem. They excel in the muddy stuff and love to push forward in the drink. They work very well on the wooded trail. They aren't as tall as the latest Pro-Line, Pitbull, or Axial 1.9's (they are all around 4.7" tall) and therefore don't offer the same level of ground clearance, but not everyone wants a scaler with gigantic tires.
While I got them primarily for the mud, if I was to plan on doing a significant amount of rock crawling I'd notch the lugs to split them. Each lug is gigantic and by cutting each one into two the tire would conform to rock easier. It's by no means bad on the rocks, but you'll want to mod them if that's your normal area of play.
My final verdict is this; if you like the size and look you'll most likely be happy with the performance. They look very aggressive, are a nice all purpose trail tire and work fantastically in the mud. The tread pattern isn't the greatest for hardcore rock crawling but you could probably change that with a little slicin'. I'm happy with the purchase.
For more RC4WD news on Big Squid click here. For more scale r/c news please click here.