Everybody's Scalin' For the Weekend – RC4WD Gelande 2 Impressions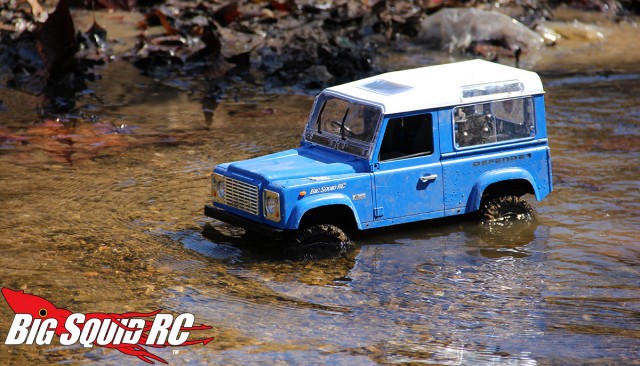 I had been eying one of RC4WD's uber scale kits for quite some time so a few weeks ago I finally took the plunge on a Gelande 2. I've now had the time to give it a proper beating and see what it's really made of. Is the beauty merely skin deep? Click "Read More" below to find out what I think.
Let's start with the build. The truck comes as a builder's kit but most of the assemblies are prebuilt; the axles, transfer case, transmission, and wheels/tires. Nearly everything on the truck is machined and you won't find much plastic. The chassis went together pretty easily with most of my time spent loctiting each individual screw (either take the time to do it when you have metal on metal or you will pay later). The machine work on this truck is very impressive. Due to the motor being placed way up front and the radio/esc to the extreme rear, I had to solder in some extra long motor leads and use a servo extension. For power I used an Axial/Castle 20t AE-2 system.
Now for the star of the show, the body. This thing is awesome! It's a scale Land Rover D90 with all sorts of bling. The shell assembly and paint work took longer than the actual chassis build! The full interior takes up a good amount of space so room is at a premium for your electronics. After a little finangling (and some creativity with zipties) I got the body mounted and screwed into place. Yeah, it takes 4 screws to mount/unmount it. It can be a bit tedious but it results in a body that's held firmly in place and doesn't have visible mounts to screw up the look. When I finally finished it was quite the showstopper. This is about as scale as an r/c can look.
This truck is hefty and feels quite a bit heavier than an Axial SCX10. The metal chassis is actually a positive because it somewhat negates the top heavy hard body effect. The suspension setup uses super detailed Yota 2 solid axles with 4 shocks all around, and 4 link rear / 3 link front with panhard bar. The chassis mounted steering resulted in some bump steer under heavy load but for the most part was really smooth. The result is a truck that reacts in very much the same way as a 1:1.
I'm not a guy who believes in shelf queens but boy was I nervous taking this out on the rocks for the first time. That nervousness went away pretty quickly after the first few dings though…because I beat the tar out of it! I immediately hit some big rocks and, after rethinking my lines to compensate for the relatively small tires and a flat bumper, did ok. I gummed up the body pretty bad though, so the first upgrades I'm going to do are adding rock sliders and a bigger front bumper. It can handle its own on the rock, but a hardcore rock crawler it's not.
The truck really shines out on the trail. I found it to be a blast when climbing hills and bombing through the creek. Watching the truck do work like a real one is really cool, and being built so heavy duty the thing is a freakin' tank. It took some very nasty tumbles and held up just fine, although I did have to pop the windshield back in place a few times. At the end of the day it was scarred with rock rash but still runnin' strong. Taking the time to loctite everything paid off, because during cleanup and inspection I found not one loose screw.
The included Dirt Grabber tires (on beadlock "black steelies") are interesting. The compound is nice and sticky and they look really good. They are modeled after BF Goodrich All-Terrain tires, and they work decent enough. The main problem with them is that they don't have big lugs to grab the terrain like, say, a Pro-Line TSL or RC4WD Baja Claw, but they look so perfect on the truck that changing them out messes up the look. I'm gonna run the Dirt Grabber tires for awhile and then probably swap them out for something a bit more aggressive. All in all though, a nice kit tire.
My only complaint are the drive shafts. Now, the coupler that connects the transmission to the transfer case is metal (like everything else on the truck), but not the drive shafts. They are plastic. It really sticks out considering how heavy duty the rest of the rig is. They held together fine but I do wonder how long they will last under heavy abuse. I plan on running them until they snap so I'll report back on that later. When the rest of the truck is \m/ heavy metal \m/ it really sticks out.
So ya, I dig this Landy so far. It looks gorgeous, it's tough, and it's fun to drive. I'm going to put a few long travel trail runs under it's belt and report back later this spring. Now, if you'll excuse me I'm off to the printer to get some Camel Trophy decals made!