Everybody's Scalin' For the Weekend – Rockin's Racin'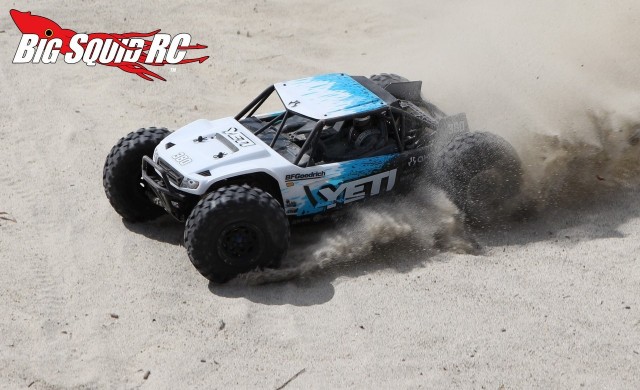 The term "Rock Racing" has become quite the buzzword in the hobby as of late. The Axial Yeti and Vaterra Twin Hammers are labeled as such, but what does an event of this kind actually consist of? Let's discuss.
Full scale rock racing has has grown in popularity ever since the King Of The Hammers series launched a few years ago. KOH is a race that combines high speed desert racing (think Baja 500) with technical rock crawling. The vehicles (known as Ultra4's) are tough, fast and versatile.
On the r/c side of things, heavily modified Axial Wraiths and fabricated buggies were the vehicles of choice for the fledgling scene. That's looking to change with this new breed of IFS (independent front suspension) truck. Rock racing is absolutely brutal on your kit, especially the front end. The IFS will hopefully absorb the abuse a bit better than a standard solid axle. The suspensions are also designed with jumping in mind and are therefore relatively plush compared to the older vehicles.
Ok, so how about the actual racing? If you imagine a standard r/c track with a ton of rocks dumped on it you're on the right track (pun intended). Some of them have rock everywhere, others keep the crawling sections relegated to certain areas while the rest is high speed/jumps. They aren't groomed like a typical off-road track and are much rougher. Some utilize hills for climbing obstacles and things like logs/water hazards. It's sort of the wild west right now for track design and event direction as clubs across the country learn what works and what doesn't.
Will this type of r/c racing become popular? We will find out over the next year.  Considering all the attention these new rigs are getting, if it's ever gonna hit you'd think it would be close to now. I'm gonna get my first taste of it in about 2 months as a local club is putting on an introductory U4 style race here in my hometown of St. Louis. You can look forward to a full carnage report!
I hope everyone has a good weekend of wheeling! I'll be sucking in some sweet, sweet methanol fumes at a 1:1 truck pull and then wrenching on a special project. It's an r/c kit I've always wanted to build. Let's just say I have a date with Vibrant Vannie 🙂
Want more Axial news on Big Squid RC? Click here. For more scale r/c news you can click here.