Everybody's Scalin' For the Weekend – Roughneck Scalers Trail Run Coverage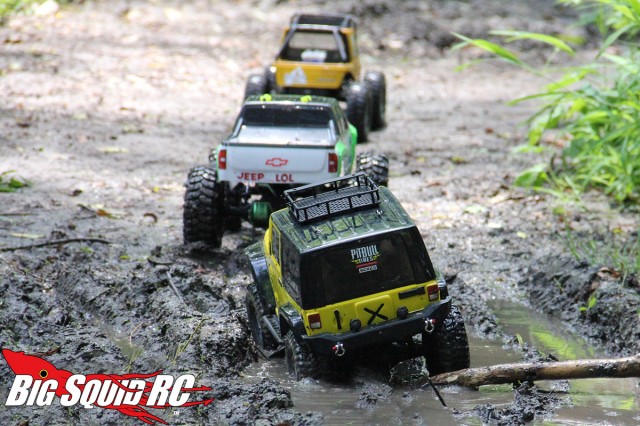 Happy 4th of July!
I recently had the pleasure of heading out to one of the first official trail runs for the Roughneck Scalers Missouri Chapter and had a heck of a time. The club originally hails from California but recently expanded to St. Louis, MO due to the exploding scale off-road scene in the area.
The trail spot was Bangert Island Park in St. Charles, MO. The densely wooded trails run along the banks of the Missouri River and are a popular destination for those looking to get their scale on. While the park generally houses a wide array of terrain (river silt, rocky creek, dirt paths) today it was mud, mud and mud. The area saw torrential rains the night before but there are no rain outs in scaling. You kwitcherbitchin' and get out there!
Despite the thick mud and awful Missouri humidity about 20 people showed up and we had a blast. It was also a lot of fun watching a few tug-o-war competitions take place on the sandy river banks. Motors were smoked, parts broken and a good times were had by all. Big thanks to the Roughneck Scaler guys for having me out and letting me wheel my trusty old "Missouri Mule" Axial SCX10 with them. For more info on the Missouri branch of the Roughneck Scalers you can check them out on Facebook right here. Have a safe holiday weekend everyone!
To see 5 more galleries of scalers getting very, very dirty click the "Read More" below.
To see more event coverage on BigSquidRC you can click here. For more scale RC news click here.