Everybody's Scalin' For the Weekend – Scaler Wheelbase Guide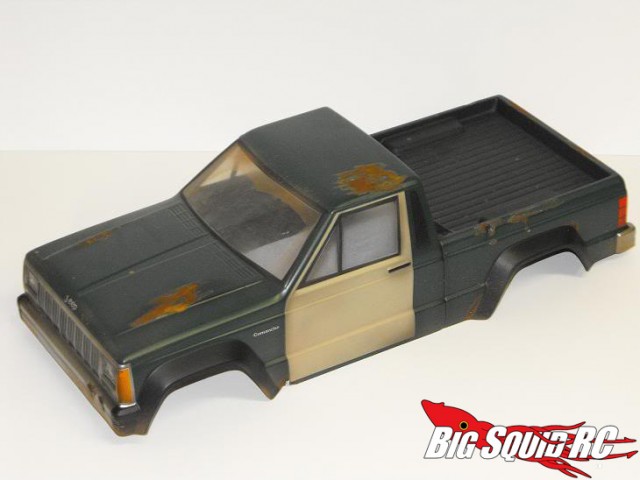 Picking the right body for a scaler is many a hobbyist's favorite part of the gig. Over anything else, it defines your vehicle's personality. There are so many trucks AND bodies on the market that it can be really confusing figuring out what fits what. With the holiday season around the corner I figure now would be as good a time as any to put together a guide so you can easily find a body that is of appropriate length for your rig.
Below you'll find a list of every major scale vehicle with it's corresponding wheelbase. This makes for an easy cheat sheet so you can cross reference the number with a body manufacturer's designated wheelbase measurement (almost all aftermarket body companies list these). This can help you to make a decision.
Also, be aware that almost any truck can be made to fit any body with a little elbow grease and link manufacturing. By the same token sometimes even if a wheelbase is dead nuts you'll still need to make modifications for correct fit.
This list isn't definitive but most of the major trucks on the market are represented. It's also pretty loose (i.e. Traxxas being a part of it despite not having a true scaler) but these are the trucks you'll most likely see out at a run. (The new version of the HPI Crawler King is omitted because I couldn't find the actual wheelbase.)
Axial
AX10 Deadbolt: 12.2″ (310mm)
SCX10 Dingo: 11.4″ (290mm)
SCX10 Deadbolt: 12″ (305mm)
SCX10 Falken Tires JK: 12″ (305mm)
SCX10 RECON G6 JK: 12″ (305mm)
SCX10 Dodge Ram Power Wagon: 12.25″ (311mm)
SCX10 C/R Edition JK: 12.3″ (313mm)
SCX10 Trail Honcho: 12.3″ (313mm)
SCX10 Wrangler Unlimited JK: 12.3″ (313mm)
SCX10 2012 Silver Rubicon JK: 12.3″ (313mm)
Wraith: 13.9″ (353mm)
Wraithspawn: 13.98″ (355mm)
Yeti: 14.25″ (360mm)
Gmade
Sawback: 11.3″ (287mm)
RC4WD
Gelande 2: 10.8″ (275mm)
Trail Finder 2: 11.3″ (287mm)
Vaterra
Ascender: Adjustable from 12.36″ (314mm) to 10.95″ (278mm)
Twin Hammers: 11.6″ (294.6mm)
Tamiya
CR-01: 11.34″ (288mm)
CC-01: 9.9″ (252mm)
High-lift: 12.25″ (311mm)
Mountain Rider/Bruiser: 11.3″ (287mm)
Traxxas
Summit: 14.84″ (377mm)
Telluride: 10.75″ (273mm)
—————————————————————————————————————————————-
In scaling news, last week Vaterra announced the RTR version of the Ascender which is set to hit store shelves very soon. If you're interested in the currently available kit version, Adam the Intern just finished our official review of the truck (kit version) which just went live today! It's a dang fine scaler with the exception of the stock ring & pinions being on the weak side. Throw in some HD's and you've got yourself a runner.
Axial Yeti hop-ups are flying to market as the aftermarket continues to throw it's weight behind the platform. This isn't really a surprise as the truck is selling like gangbusters. Keeping with the theme of this article, the Pro-Line VW Bug looks especially sweet. Speaking of the Yeti, my first piece in a "Making the Yeti a Trail Beast" series goes live sometime soon. The platform has had a couple teething issues but on the whole I think it's a going to be a great rig.
Quick thanks to everyone for making it a good first year at Big Squid as my anniversary was a week ago. Good times. Also big thanks to racer Tim and grand poobah Brian for helping me along and giving me a platform to spew my garbage each and every Friday.
Variety is the spice of life and so I'm hoping to cover even more segments of scale r/c in the coming months (while still focusing primarily on crawling/trailing of course). Tanking, drag racing, battleships, demolition derby and F1 racing are a few things on my "to do" list for 2015.
If you have an idea you'd like to see, a deeply held grievance or just want to show off your custom creation in this space please drop a line to doug at bigsquidrc.com.
Have a great weekend everyone. Get outside and enjoy the brisk fall weather while ya can…not much good scaling weather left this year!
For more scale r/c news on BigSquidRC you can click here.