Everybody's Scalin' For the Weekend – Trigger King R/C Mega Truck Series Event Coverage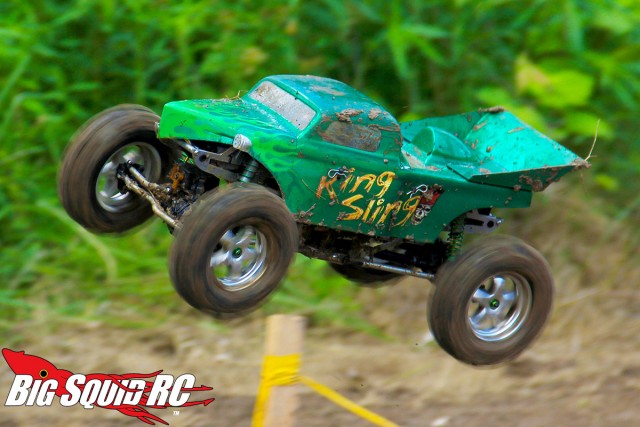 The Trigger King R/C Mega Truck Series held it's first official event last weekend in Wentzville, MO (suburb about 50 miles west of St. Louis). The series was put together to combine the fun of scaling/bashing with the excitement of full scale elimination mud racing. While the aforementioned mega trucks are the main event of the show, there is also a "run what ya brung" open class where any vehicle that can safely fit on the track is welcome.
The track consists of two similar "lanes" featuring jumps and mud holes where the drivers race against each other heads-up style. The event starts out with qualifying. Drivers are allowed to run each lane once and take their best of the two times. Qualifying not only seeds the elimination bracket, but the highest qualifier between trucks will always get lane choice. Once the brackets are set, it's time for elimination racing. After each class crowned a winner, the track lane markers were removed and people started to freestyle bash on the open course.
The most popular setup for the mega class is combining Axial running gear with a CPE Barbarian chassis. The scale rice & cane tires were mainly narrowed Traxxas Maxx, Tamiya Clodbuster, or RC4WD Mud Bashers. All the trucks looked really scale (including replicas of the famous King Sling and Opielicious 1:1 mega trucks) and most of the drivers have finally figured out how to set these beasts up. The open class saw everything from Axial Wraith's to Traxxas Slashes compete and were extremely wild to watch. When all was said and done, the event belonged to Jeff Bourgoine as he swept both classes (light blue Chevy Axial/Barbarian mega and black Traxxas Slash).
The series is something that myself and a few buddies have been wanting to launch for sometime now, so it was great to see everyone's hard work pay off for a fun first event. And while us hardcore scalers got our fix, it was also great to see some of the noobs bash the crap out of their rigs. I had a blast running my "Mega Mule" and look forward to beating the snot out of my truck all summer long.
Click the "Read More" below to get event results and see a ton of pictures.
Mega Truck Results
Top Qualifer – Mega Mule
Round 1 – Mega Mule def. Opielicious
Round 1 – King Sling def. Mud Boss
Round 1 – Heavy Chevy def. Green Juggernaut
Round 1 – Mega Orange def. Ghost Rider
Round 2 – Mega Orange def. Mega Mule
Round 2 – Heavy Chevy def. King Sling
Finals – Heavy Chevy def. Mega Orange
For more scale news on BigSquidRC you can click here.