Everybody's Scalin' For the Weekend – Trigger King R/C Mud & Monster Series Event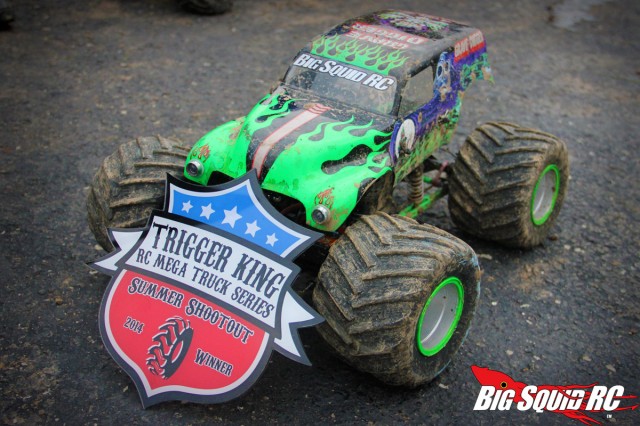 A few weeks ago you may of seen my piece on building a Tamiya Lunchbox for use in a retro monster truck racing series. Last weekend we held the first event and, despite mother nature throwing a curve ball, it was a blast!
There are 3 classes; Scale Monster Truck (Axial based hybrids, modded Tamiya TXT-1's and Clodbusters), Retro Monster Truck (old style monster kits like Clods & Lunchboxes), and Mega Mud Truck (Axial hybrids and modded SCX10's). The format is similar what you'd see in a "real" monster competition. There are racing, wheelie and freestyle events. Points are awarded for each event with the winners being who score the highest combined total.
The monsters race on their own course separate from the slop that the mud trucks call home. Originally all the trucks were going to be running on dirt but thanks to torrential rains we had to audible and build the monster course on asphalt. The whole crew did a fantastic job throwing things together at the last minute and the track was awesome for both racing and freestyle.
Racing was tight across all classes. Watching the old trucks rumble around the track was great fun, and then seeing the "modern" monsters literally fly over the same course was very eye opening. I'm well aware of how far the hobby has come since the old days, but actually racing different generations of vehicle back to back make it VERY noticeable. My race truck handles like an F1 car compared to the stiff and bouncy retro machines. That being said, both types of truck are equally fun to race!
Congrats to the  winners: Chris Blank won the retro class with his old school Sassy Chassis Clodbuster, Josh Rhodes took scale monster in his wicked ZRP Diablo based Grave Digger, and Jeff Bourgoine took the Mega Truck title with his Axial / CPE Barbarian. I had a great time and can't wait to come out to the next one in the fall!
To see more of where the BigSquidRC crew has been lately you can click here. For more scale r/c news click here!
Click the "Read More" below to see more pictures.