Everybody's Scalin' For the Weekend – Trigger Time with the Axial Yeti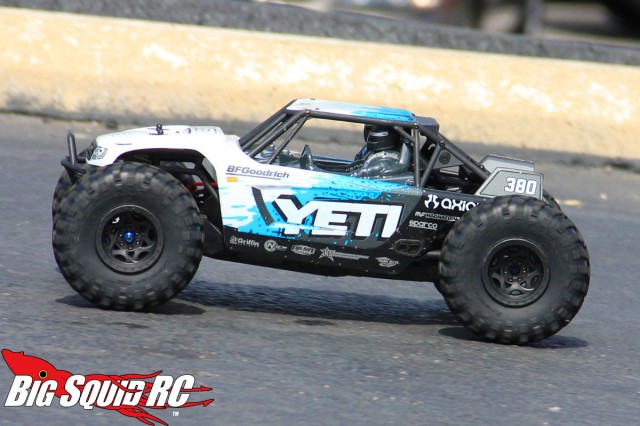 I've had a weird relationship with the Axial Yeti. I was caught up in the hype when it was announced a few months ago and had one on pre-order. As time went on (and ship dates were pushed back) I gradually started changing my mind and finally cancelled to take a "wait and see" approach. Hey, like many of you guys I only have so many hobby dollars to spend and they wound up going somewhere else. It's not that I thought the truck didn't look cool…I just didn't know what use I'd really have for a hybrid vehicle. I have monster trucks for speed and crawlers for crawlin', after all.
Two weeks ago my LHS finally got them in stock (note, they immediately sold 14 out of 15 kits…these things are FLYING off shelves) and let me check out a display model. Holding the truck in my hands had officially piqued my interest again. Well, as luck would have it the same hobby shop (shout out to Mark Twain Hobby Center in St. Charles, MO) held a customer appreciation bash and I finally got to see the Yeti in the wild. Not only that, I finally got to bash the $@*# out of one. Click the "Read More" to see what I thought!
Big thanks to my new friend Steve Seeba. He happily let me drive his brand new Yeti like I stole it. He saw my BigSquidRC t-shirt and not only wasn't afraid of turning over the remote, he encouraged me to hit it hard. Hit it hard I did!
The first thing I noticed was the speed; the thing screams on 3S power. It took off like a rocket ship on the asphalt parking lot and cornered pretty well. The vehicle reacted to terrain in super scale fashion. Yeah, the locked rear end makes it a bit unwieldy at speed, but whatchu gonna do? That's the nature of a locked diff and high speed. If you want a speed demon just throw in either some Axial Exo or HPI Wheelie King spider gears to unlock the rear.
Heading to the other end of the spectrum, I was really impressed with the low speed ability of the Vanguard brushless system. Despite being a non-sensored getup I experienced no cogging on the low end. It was very controllable and I could definitely see it being able to handle some light duty crawling without any modification. Kudos to Axial/Castle.
I have heard grumblings of fit/finish gremlins that some consumers are having with their trucks, but I didn't see any here. One issue I've heard about are the wheels not holding the tires on the bead. No problem on this one. Speaking of the tires…yeah, pretty much the standard RTR compound. If/when I pick one of these up, that'll be the first upgrade I make.
Finally, the jumping. Oh, how I love the jumping. This thing is insane! The air that we were getting with the Yeti put the other vehicles at the bash to shame. The way the super plush rear end unloads when it takes off looks very much a frog…the animal, NOT the vintage Tamiya. Once I got the hang of how it handled in the air it was a freakin' blast. It also had some gnarly accidents (several times coming down on top of the cage, sorry Steve!) and drove away just fine.
As you may be surmising, I had a good time. The truck seems to me like a hellacious basher. It's size and scale looks turn a lot of heads. So yeah, now I definitely want one. Whenever I do get my grubby mitts on a personal model I'll be turning it into a high speed trail machine. Until then, thanks to everyone at Mark Twain Hobby for putting on a great event and to Steve for giving me a taste of Yeti-mania.
For more Axial news on BigSquidRC you can click here. To see what's going on in the world of scale rc why don't you click here. Don't forget our Full Yeti review was posted right here.