Everybody's Scalin' For the Weekend – Vaterra Ascender First Impressions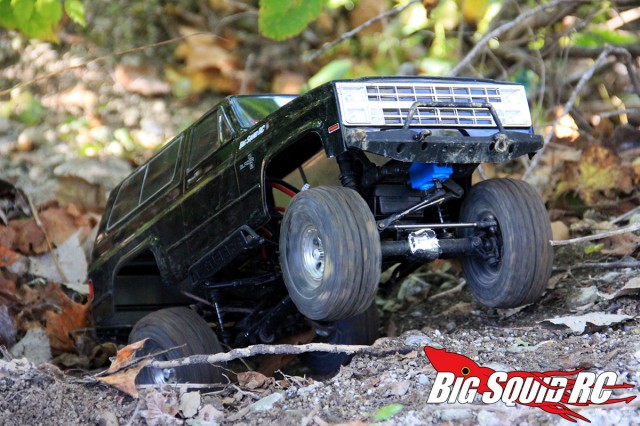 While the gang was at iHobby last weekend, I was busy getting in wheel time with arguably the biggest "traditional" scaling platform release this year; the Vaterra Ascender. Big thanks to my trailing buddy Matt Worthington for letting me have at his new truck for an afternoon of trailing and neighborhood crawling. Given that this isn't my own truck and parts of it have been changed from stock (like the tires/wheels) this won't be a super detailed synopsis, but I still wanted to share a few thoughts.
The truck used in this piece was outfitted with big power – a Tekin Roc 412 (the crème de la crème of scaling motors) mated to a Castle Mamba Max Pro with drag brake dialed in. He opted to forgo the stock wheels and tires for Pitbull Growlers and RC4WD Mickey Thompson wheels. The servo is a waterproof Hitec 5646WP with a Spektrum radio system running the show. Click the "Read More" to see what I thought.
The first thing that jumped out at me was just how big this rig looked thanks to the sweet K5 Blazer body. Look at the side by side shots below to see it's stance vs. my modified Axial SCX10 RECON G6 edition. It's pretty impressive. The truck also feels very stout, with the chassis rails being of substantial thickness.
I'm a big fan of how the chassis is laid out. The chassis mounted steering servo with panhard bar scores big points with me. This, coupled with the smaller axles really ups the scale appeal. High clearance knuckles housing CV shafts top the package off, and  I'm happy to say that the steering on this machine is fantastic. It's much tighter than an SCX10, and I saw hardly any bump steer (a byproduct of many panhard systems).
The metal geared transmission felt very smooth and handled the power just fine. While it's single speed you can upgrade later to make it a 2 speed unit (like its sibling the Twin Hammers).
The battery tray is an interesting choice. I wasn't a fan when I heard about it, but after seeing it in action it makes sense. It only accepts shorty packs (a negative for stick pack hobbyists) but actually "floats" above the front axle to keep the center of gravity low as the suspension compresses. In practice this is a killer feature as it let the Ascender do what it's name implies: climb up, up, and away. Despite not having any weight in the wheels like my SCX10, it crawled every obstacle pretty much just as well, in some cases better.
I can't sing the praises without bringing up some of the negatives. While these are mainly just personal cosmetic gripes, I'm not a fan of the rock sliders with VATERRA stamped really big into them. The rest of the package looks so cool that they stick out and detract from the look. The bumpers are also "take it or leave it" for me, but again, it's just a personal thing. Luckily the aftermarket will easily take care of those minor gripes.
Something with a bit more substance than a "looksie" are the pinion gears in the axles. A few teeth were eaten off after a weekend of hard playing. Given the power plant the truck has and how hard it was ran I don't know that it's really entirely the trucks fault, though. Still, hardened gears look like a wise hop-up choice if you plan on slapping a "big block" under the Blazer's hood. The truck also displays a fair amount of torque twist compared to an SCX10 with the same power setup.
Again, while I didn't get near enough time with it to constitute a full review (and it wasn't using all stock kit parts) I still came away from this run very impressed with the Ascender. Vaterra has really done their homework and produced a solid platform. I hope to purchase my own kit in the near future so look for much more in depth discussion when I have my own to beat and wrench on. Thanks again to Matt for letting me go wheeling with his for an afternoon!
——————————————————————————————————————————————-
It was a huge week in scaling news, what-with the Axial Yeti XL being announced. I wasn't at iHobby nor did I take part in the bash session in California so I'm still waiting to lay eyes on this thing for myself. Our review went live this week, and shortly after Axial put up this video. Holy pizza cutters, Batman!
While we are talking Yeti's, Axial made an official post on their website acknowledging a flaw with the stock hexes and is offering to replace them at no cost to those who have had issues. Kudos to them for making it right.
That's all for this week folks. Have a great weekend and if you are near St. Louis, MO and enjoy monster trucks (both full size and the smaller scale variety) I'll be attending the BIGFOOT 4×4 Monster Truck Spooktacular on Saturday at Tri-City Speedway in Granite City, IL (see the event info here). I'll be running the r/c monster truck race and passing out plenty of Big Squid stickers to anyone that wants them. I'm hopeful that the weather cooperates and it's not a rain-out!
You can click here for more scale r/c news on BigSquidRC. Want to see more Vaterra news? Clicking here will make all your wildest dreams come true.