Everybody's Scalin' For the Weekend – Viva La Mega Truck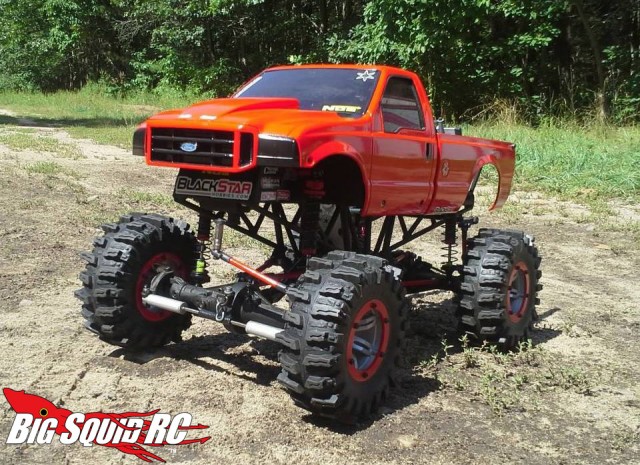 We are only a month into 2014 and based on the Nuremberg Toy Fair it already looks like this will be the year of the r/c monster truck. It seems EVERYONE just released a new or updated monster kit. I had to check the calendar to make sure it wasn't 2004. All of them come with big brushless power (except for the standout of the bunch, the gas guzzling Losi LST XXL-2) and look to be heavy duty bash machines. While 2014 looks to be titled "The Monster Truck Strikes Back®", I'm not here today to talk about them. Nope, I'm talking about a relative newcomer to the full size world of off-roading that's starting to spill over into the scale r/c scene.
Ah yes, the mega truck (also sometimes called mega mud truck). What started as a southern thing about a decade ago (southern USA for you international folk) has spread like wildfire across the country. The mega-truck started as a throwback to original monster trucking; throw big tractor tires on a truck, soup up the engine and hit the mud hole. They've evolved into a cross between a mud racer, monster truck, and swamp buggy. For an overly simplified description you basically take a modern four linked monster truck, lose about half the weight, add a set of tractor style tires and there you go. The trucks are obscenely overpowered and can just as easily fly through the sky as they can rip through the mud. These vehicles are basically the 1:1 version of a great r/c bashing truck. Here's a video of one:
Don't look now but the r/c mega truck movement is already on the up and up. Many builders that I know of have either already started or plan to build a scale mega. For example, check out my friend Josh Thiede's (aka Harley Designs) killer looking scale tube truck build pictured below. The current crop of scale rock crawlers and monster trucks also lend themselves very well to conversion. You just need a big power plant, waterproof electronics, and a set of mud tires. The last couple years guys have been primarily narrowing old Traxxas T/E-Maxx tires to get the desired "rice and cane" tractor look, but with RC4WD recently releasing their 1.9 Mud Basher tractor tire (see the green-flamed Axial SCX10 below) its now much easier to get in on some mega action without any tire hacking required. Hopefully they will release the Mud Basher in a much bigger 2.2 size to accommodate bigger trucks.
Do you remember our recent review of the Axial Deadbolt? Sure you do. The Squid crew have turned the truck over to me and mega truck conversion is already well underway. I'll be posting my first build article next week!