Everybody's Scalin' For the Weekend – Where the Rubber Meets the (Off) Road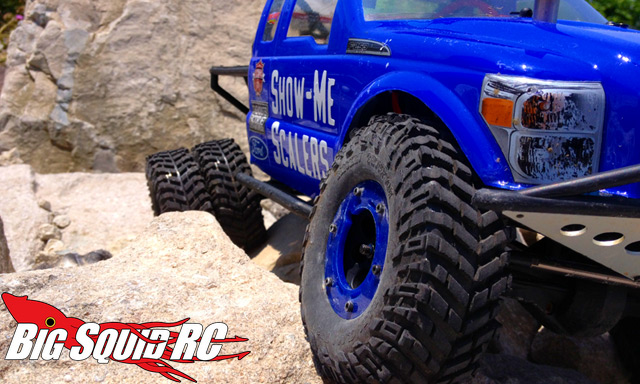 "What tire is the best for my truck?"
That is the first question most newbie scalers ask upon picking up their new ready-to-run (RTR) truck. Like all r/cs, tires are probably the most important performance choice you can make on a scale rig.  Most RTR trucks come with tires that are made of a hard compound that easily slip off obstacles, and I've never seen any that come weighted. When you compare this to a soft and sticky aftermarket tire that has weight in the front wheels to lower your center of gravity, the difference is night and day.
While I can't give one definitive answer as to which is best, I can give you four very solid choices. It just so happens that these four types of tires are available in both 1.9 and 2.2 versions, so size of your rig shouldn't limit availability. Go with an Axial Maxxis Trepador (R35 compound), Pro-Line TSL Super Swamper, Pit Bull Rock Beast, or RC4WD Baja Claw (X2-SS Compound) and you should be ready to rock (pun intended). I've used all four of these extensively over the last year and I'd recommend any of them without hesitation.
So my advice to you, new truck owner, is ditch the stockers, pick out a set of the aforementioned tires that you think look the coolest, add 2-3 ounces of lead weight to your front wheels and then go tear up the trail. Be warned though, as you can quickly develop a dangerous case of scale tire addiction, a disease with nasty side effects like a depleted bank account, bead-lock induced potty mouth and a work bench that resembles the Simpsons' Springfield Tire Fire. I'm currently sporting a dually setup with 6 of the new XL Super Swampers (see pic below), but I routinely change my body/tire combo for what I feel like running on any given day.
Before we go, it's shameless plug time; if you are around the St. Louis, MO area, consider this your formal invitation to attend our club's 2nd Annual Turkey Trail Run, taking place this Sunday (Nov 24) at West Tyson Park in Eureka, MO. We are meeting around 10:30am and will be running around four miles of the treacherous Chubb Trail. If you've ever wanted to go scaling with 30-40 other like-minded lunatics, here is your chance!