EVERYBODY'S SCALIN' – FRIXION RC 1″ BRAVEN IRONSIDE SCALE TIRES
Frixion RC has popped up out of thin air it seems, carrying an impressive catalog of scale and performance hop ups. We got our hands on a set of 1" Braven Ironside Scale tires with the Alien Kompound from Frixion RC. The tires look great, so we pulled in our FMS Model Toyota Land Cruiser into the scale shop and got to work!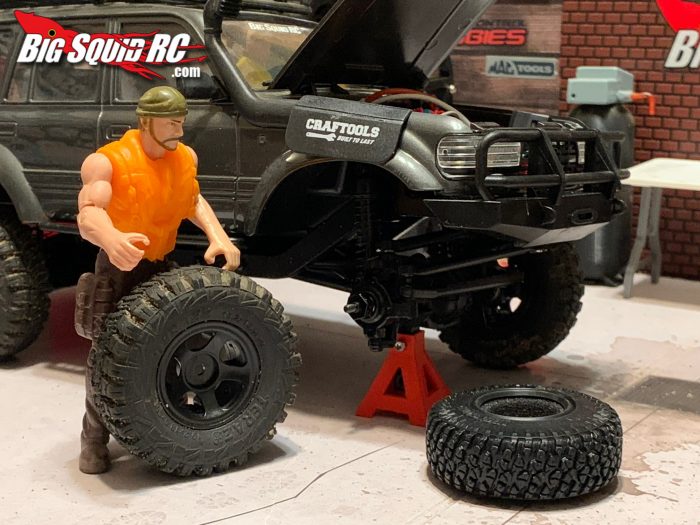 I know these tires are made for 1:24 scale, but the wheels on the 1:18 FMS are not that much bigger. Along with being super easy to mount and dismount, I figured I would give it a shot. The Ironside's come with foams and that was the only issues I ran into putting them on a bigger wheel. Makes sense, foam won't stretch as easy as rubber, so I put 4 slices on the inside diameter of the foam. Doing that allowed the foam to stretch a little more. The stock tires didn't have any foams, but they also were not made with the Alien Kompound. With the Alien Kompound being super sticky, I wanted to keep the foams in so the tire would keep its shape and not stick to the inner ring of the wheel.
After getting the tires mounted it was time to hit the scale trails. The Frixion RC Braven Ironsides did their job on the rocks and looks wicked while doing so. Soft enough to absorb terrain yet firm enough to avoid tire fold. If you are looking to put some new rubber on your tiny, tiny rigs, I would check out Frixion RC and see what they have for you!