EVERYBODY'S SCALIN' – GREAT LAKES GAUNTLET!
Hello everyone and welcome to this week Everybody's Scalin'! If you have been watching the Big Squid RC live streams on Thursday nights then you would know we went up to the Great Lakes Gauntlet last weekend. And before I get some Karen emails there were hand washing stations and all that fun stuff. This years event was the first time I took the little Squid with me, and according to him he won the whole event within 10 minutes of being there, sorry everyone better luck next time lol.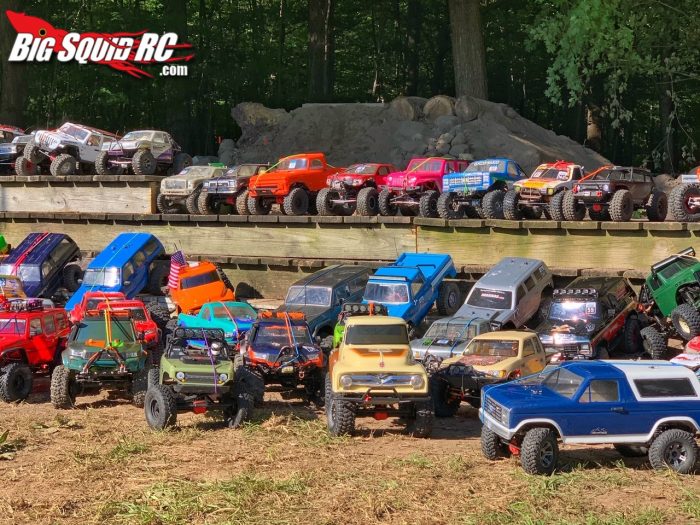 Must give a big thank you to the staff of the Gauntlet for helping us out with setting up our booth, my shoulder is out of the sling but still very weak. The Gauntlet staff A.K.A Lawndart Motorsports really busted their backs to put on a great event during theses tricky times and I think they knocked it out of the park this year. Unlike last year, the Purgatory event started a lot sooner so there was shorter wait times and it did not take all night to get everyone ran.
The trails were also modified this year as well, rather then being slammed with gate after gate, the crew spaced them out. Spacing out the gates made for less traffic jams and gave you a way to stay a "safe" distance for others. By far the smoothest G6 I have ever been to. Normally you get stopped within 15ft on the first trial then you are stuck for however long. I never compete at comps I just like to pay my fee and run my rig, if the trails for the Gauntlet next year are laid out like this years, I think I might pull those belts tight and give it my best shot to win next year!
Tiny town was a lot of fun and had more buildings and scale details then last year, they even had a dispensary for your scale drivers. This year all I could really do was bring one of my scale tents, as the Scale Metallica stage is heavy and awkward and I was not able to have them out this year. But I will make this promise here and now, that Scale Metallica will be at the Great Lakes Gauntlet 2021, bigger and louder!
We are still finishing up the video for the Gauntlet and should be out next week, so be on the look out for that. Thank you again to the Great Lakes Gauntlet for having us out. It means a lot to all of us at Big Squid RC when people come up to our booths and say hi and letting us know you enjoy what we do. It is a ton of work but us hearing from you makes us want to work even harder! Till next week have a great weekend and keep scalin!