Everybody's Scalin' – Grinding on the Rocks
Happy Friday gang. This weekend I'll be heading to my first crawling competition of 2015, put on by the folks at Mark Twain Hobby Center in St. Charles, MO as part of their annual "Demo Days" bash. I've been looking forward to this event for awhile and have spent some time this past week practicing on the course (it's 5 minutes from my house) trying to prepare. I'll be putting my brand new Vaterra Ascender to work in the 1.9 class and then bring out my Axial Wraith Spawn to do battle in 2.2. It's a good thing I've been practicing because gosh, was I rusty.
I've been trailing recently sure, but going hardcore comp crawling with scale trucks on a tight course is definitely something I needed to relearn…especially with a vehicle like my new Ascender that at the time of hitting the track for practice had not even had a full battery pack through it yet. Speaking of that, let me tell you something. If you want to get over the "My truck is new and I don't want to put scratches on it!" phase of ownership…spend 5 minutes on a comp crawling course.
I'm not using any hyperbole when I say that cosmetically you can put more wear on a vehicle by spending 15 minutes on a rock course than you can sometimes from several days of trailing. The rocks chew up body, bumper, and axles like no one's business. They also have a propensity to eat driveshafts and axle parts if you aren't careful.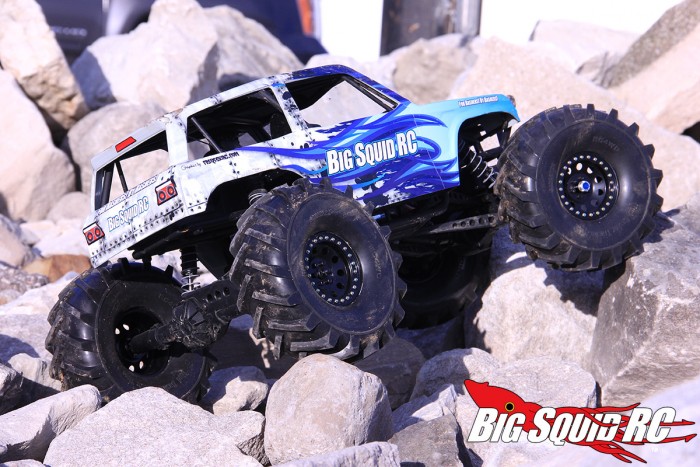 The hardest part about crawling on a course is avoiding getting your tires and/or body bound up between rocks. Bigger trucks like the Wraith make the track much easier. Conversely, a smaller tired, big bodied rig like the Ascender (understatement there, the K5 is HUGE) are much more difficult to wheel. That's why the 1.9 class has always been the most fun to me – it's more strategic.
Hopefully the weather holds up. The forecast is looking wet but I hear as long it isn't raining during the actual event than it will go on. You know me, I always welcome water and mud! If you are stopping by please say hello and score some Big Squid decals!
Before we go, some of you may notice that my Ascender isn't exactly box stock. I've also added a few trinkets to my Wraith. I'm working on reviews for all of the goodies and I should be rolling them out over the next month after I've had ample test time. Until next week, HAKAW.
Click here for more scale news on BigSquidRC