Everybody's Scalin' Hauling Scale
Last Friday night I was doing some window shopping on Facebook marketplace; I have a tendency to do this a lot. Even when I'm not in the market for a new vehicle I still like seeing what's out there for sale. Five minutes into my search I found a Tamiya Globeliner for a very reasonable price. I have always thought the Tamiya 1/14 scale semi trucks were very cool and I have always wanted one. What stopped me from ever buying one was the fact that they only came in the kit version. Usually, if someone was selling one RTR, the price is very high. I know if I ever bought the kit it would probably sit on my shelf along with a few other projects I'm working on.
After talking to the seller for a little while we arranged to meet. Luckily he only lives about 20 minutes away from my house. Once I got there seeing it in person made my mouth drop. The seller obviously put a lot of time and work into this rig. I'm not going to go into full detail of every single little part because you'd probably be reading this for about three hours. What really got me by the scale jugular was the full lighting system, sound module and three speed transmission. After about a half hour of a tutorial and some hobby talk I was on my way with my new toy.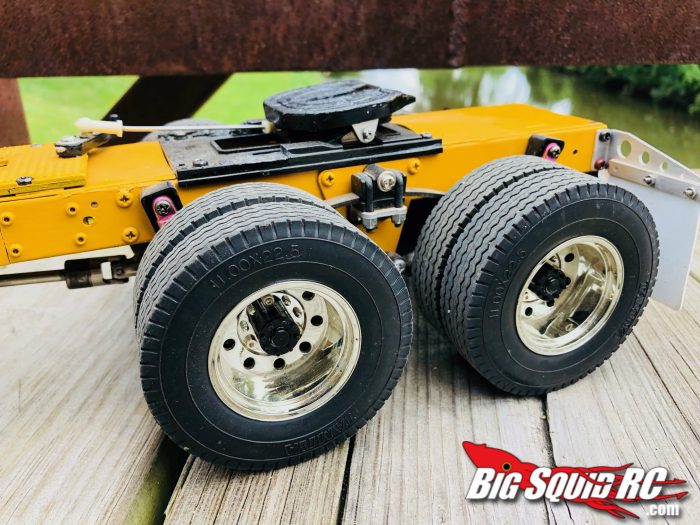 As soon as I got home I started looking online for accessories and parts and all the goodies I could get for the Tamiya Globeliner. I'm not gonna lie, I was pretty shocked at how much was available. First thing I ordered was a set of RC4WD scale tie down straps. For about the last month I've kind of been in the marketplace for a car trailer for the scale rigs. But the 4 ½ foot lowboy trailer, that came with the Globeliner, more that satisfies my need for a car trailer. Now instead of loading one rig up on a trailer I can load two of them. Second thing I ordered was a set Tamiya rear fenders. I think it will look really sharp once I get them and install them given that the frame of the Globeliner is stretched.
Then, I started thinking where am I going to take this rig that's almost 6 feet long with the trailer attached. I have some spots around the off-road park that are flat and that I can cruise around in with no problem. Overtime I will definitely construct more areas for the off-road Park but that takes time and I'm a very impatient person who wants to play now! If you have a rig of this magnitude I have a couple ideal spots you can run these with little to no resistants at all. Find yourself a good walking path or riverwalk. The surface's are really smooth and can make for some really cool scale shots given the location. Or find a really big parking lot, preferably an empty one. That way you have plenty of room to let it get up to speed and maneuver.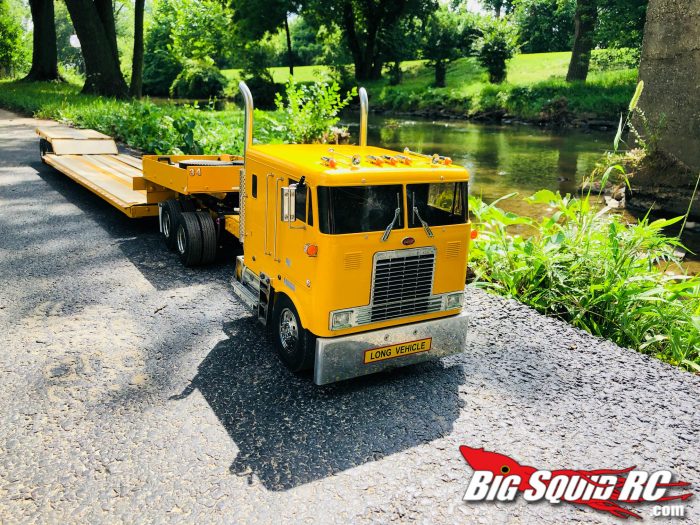 My hometown has a beautiful historical riverwalk. I knew if I went down there I could get some really nice pictures. The only resistance I ran into was people stopping me and asking about the truck. Which wasn't a big deal at all cause I was more than happy to tell them about it. I know some people can get annoyed about pedestrians stopping and asking you a whole lot of questions about your RC vehicle when you take it out public. I personally love it because you never know you might spark that hidden interest for someone else to get into the hobby. Take the time to tell them all about it and where the local hobby shop is to where they can maybe pick one up. Even if one person out of three people that stopped to talk to you goes to the hobby shop and picks up a new toy you're actually helping the hobby grow. That person will tell another person and then it becomes a domino effect. The more the hobby grows the better it's going to get.
Till next time…this is Rubber Ducky signing off southbound with a load of scale!