EVERYBODY'S SCALIN' – HELP FROM DIXIELAND R/C
A while ago a buddy of mine, Cody Johnson owner of Dixieland R/C, sent me a Boom Rod end set for our Axial Racing UMG10. Now, in the beginning of the UMG10 build I didn't think twice about the Rod ends. As I was tearing the rig down the other week to install the Boom rod ends, I then realized why Cody told me I would need the rod ends. Worn out and loose rod ends can affect your rig a decent amount, sloppy steering can be one of the results worn rod ends.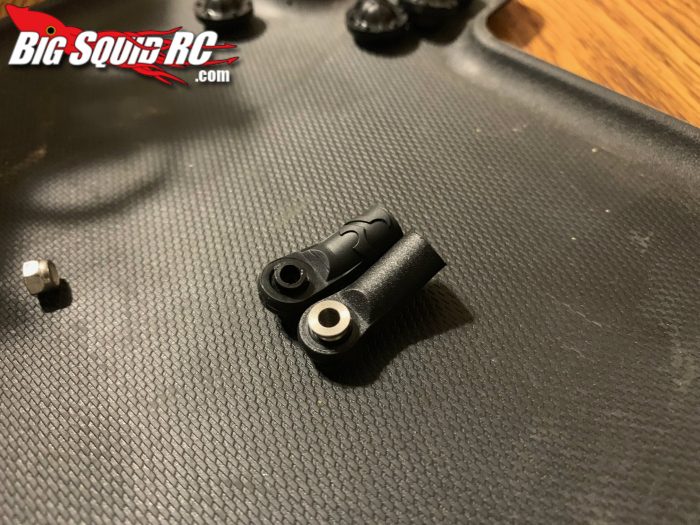 The stock rod ends on the UMG10 are all plastic, not a make it or break it deal but if you plain on putting the UMG10 or any rig for that matter through some wicked terrain you might what to invest and upgrade the rod ends. Dixieland R/C also has boom rod ends kits for the 10.2, 10.2 6×6, Element Enduro, Capra and the Bomber. Since our UMG10 is going to enter a Truck Night in America Style Comp at Crawler Canyon this weekend I'm glad Cody hooked us up because we will need the extra strength anywhere we can find it at the Canyon.
Give Dixieland R/C a look see and tell him Jeremy sent you… Ok, that probably won't get you anything special, I have just always wanted to say that, lol. Along with being a one man show with the online store he also has a great YouTube channel full of videos. His Axial Capra build vid helped me out a ton when I was building ours. Speaking of the Axial Capra the Big Squid RC testing is all wrapped up so be on the look out for our full review very soon!
This weekend is the RC4WD West Coast Scale challenge, sadly our schedules didn't meet up for us to make it this year but from what I have been seeing it's looking to be a killer turn out for a first-year event. Anytime I can't make an event I spend that weekend living vicariously through the photos. So, if you're going to the RC4WD West Coast Scale Challenge, tag me in your photos, lol. Have a great weekend and make sure to hit those trials with whatever you have. Till next time keep Scalin'