EVERYBODY'S SCALIN' – INTERIORS
Well, I can honestly say I am in full build mode. In total I have about seven builds I want to have done by fall. Sounds like a lot, but in reality I have most of the stuff I need. There is more to a scale build then just painting a body or adding some scale items on to your rig. Don't get me wrong, that's fine and dandy, but if you really want to step it up doing an interior is a step in the right direction.
When doing a scale interior you have a few options. You could easily get one of Prolines Lexan inserts. These work well but some of them don't have the depth I like. If you're going for a quick result than that's your best bet. The interiors from RC4WD have a ton of detail and you can usually fit a driver in them with out cutting the driver in half. With some modifications you can get them to work on most bodies. Lastly, you can go the complete custom route and build your own from scratch. With the help of 3D printing this option has been opened up to a lot of people who may not be master builders.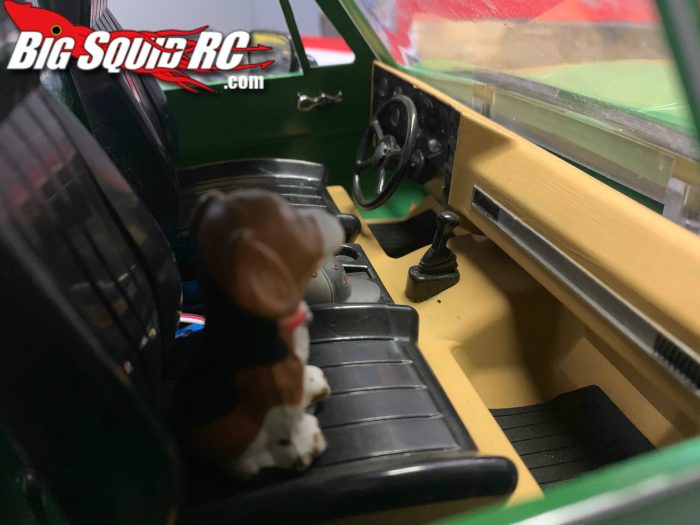 The next step is to figure out what to do with the interior you have picked. For some odd reason I am a sucker for tan interior, why, I have no idea. I like to use acrylic paint, it's cheap and if you get the right kind it doesn't have a gloss. You don't want the seats to look like your Grandmas chairs that still have the plastic on them; you know, the room no one can ever go in. You can even get the acrylic paint to crack, if you want that look on the seats or dash, by putting a heat gun or hair dryer to them as they dry.
If you really want to shock and aww your friends then using felt material is what you want. You can get a few types of felt at Walmart and it's not very expensive. I picked up a yard of grey felt, because they didn't have tan, lol, a yard of leather, and a yard of thin foam for the roof liner, all for about 25 bucks. And a yard is a lot for the tiny trucks. You can do about 3 rigs with that much material.
You can't rush art, so definitely spend some time on the interior. Remember, it's all about those little details that will give your rig the edge. Don't be afraid to try something you haven't done before, you might be surprised at what you can do. As for the material I picked up I will be doing a little build series on the whole rig. And you will just have to stay tuned to find out what it is. As always, we love seeing others work so feel free to tag Big Squid RC in your pictures. Or use the #everybodysscalin on Instagram!
On a side note, I want to give a huge thank you to Doug and Cubby for the Shout outs and support they have given me. It means a lot when the people you look up to in the hobby recognize and like what you do. So have a great weekend and keep Scalin'!