Everybody's Scalin' – Monsterizing a Monster Truck
Hello gang, I hope everyone is having a most fantastic Friday.
I've spent the past week starting the mod process on my SMT10 and want to show off what I've done thus far.
Remember those recently announced JConcepts Ford bodies? One of them magically found its way to my mailbox, specifically a '93 Super Cab. The early 90's were a glorious time for monster trucking, so immediately upon the announcement I knew I had to have one for this truck.
It did take a minute to mount the body however, as the rear roll cage doesn't play nice with the rear window. I had to chop said window out as well as hack on the bed a bit to get it to fit, but fit it did (see a pic below). Now time for paint.
When brainstorming a new vehicle identity/paint scheme I was somewhat limited due to the neon green chassis (sorry folks, I didn't feel like dyeing the entire chassis), but nonetheless drew upon my love of both apple flavored whiskey and Alice in Chains to come up with "Rotten Apple".
I needed a color to contrast with the green so I went with Duratrax Gunmetal (#PC263). I think the body turned out great. The folks at Duratrax really put out excellent rattle cans, and Gunmetal is perhaps my favorite. After spraying it and applying the vinyl decals I created, the SMT10 had a whole new attitude.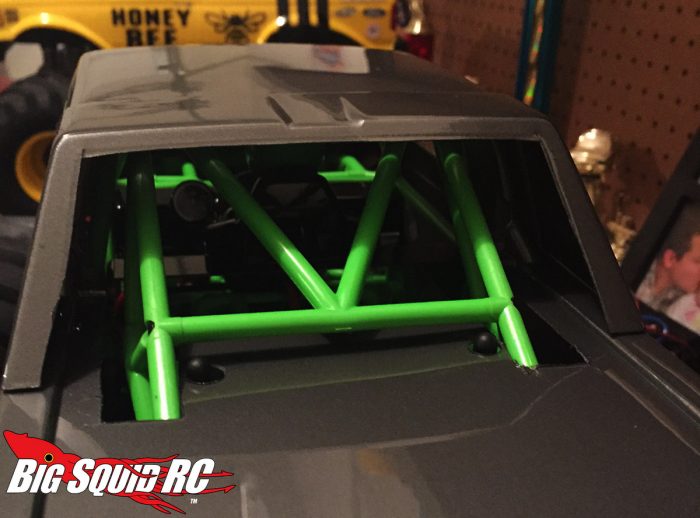 Now it was time to ditch those 2.2's and put on some correctly sized monster truck wheels and tires. The wheels are Pro-Line Brawlers with 17.5mm offset (shot in neon green Tamiya plastic paint). For rubber I went with a set of RC4WD Rumble Monster Truck Racing Tires in super soft compound. Designed to mimic the aggressive hand cut tread of a 1:1, they look wicked. I also know from previous experience they are performers. To put the cherry on top I painted the "RC4WD" on the sidewall with a paint pen to enhance the scale look.
The last thing I needed to do was lower the suspension so the links were parallel with the ground. To do this I simply used pre-existing chassis holes with some 3mm hardware and it worked perfect. Oh, and I used the killer skull that was painted for us for our Deadbolt review many moons ago as a new melon for the driver.
I'm extremely happy with how it's turned out thus far, as NOW it looks like a monster truck. I still have a ways to go, though.
Coming up in a few weeks, I'm going to shorten the wheelbase about 1.5″ inches to perfectly fit the body (right now it sits at 13.9″ but the Super Cab is 12.5″), add a front sway bar, reinforce the drivetrain, and add a whole lot more power.
Until then, keep it on all 4's.