Everybody's Scalin' – New Body Day is the Best Day
I've mentioned a time or two that one of my favorite things about this hobby is that moment when you get a brand new builder's kit up on your workbench and crack open the box for the first time. The knowledge that you are about to turn a bucket of parts into something that can be driven (along with that new kit smell!) is a great feeling.
However, it's not my favorite thing. Nope, that would be New Body Day.
To be more specific, New Body Day isn't whenever I pick up a clear lexan shell nor does it mean I've just finished a paint job. Nope, it's when I receive one from a pro painter.
Whereas opening up a kit signifies the beginning of a build, receiving a body that I've ordered (usually weeks, sometimes months in advance) means that it's finally finished….and ready to bash. I don't do shelf queens, yo.
I'm decent enough with a rattle can to do simple jobs, but ever since I exploded an airbrush in my parents kitchen 15 years ago (it was bad) I've relied on a skilled painter to do more complex jobs.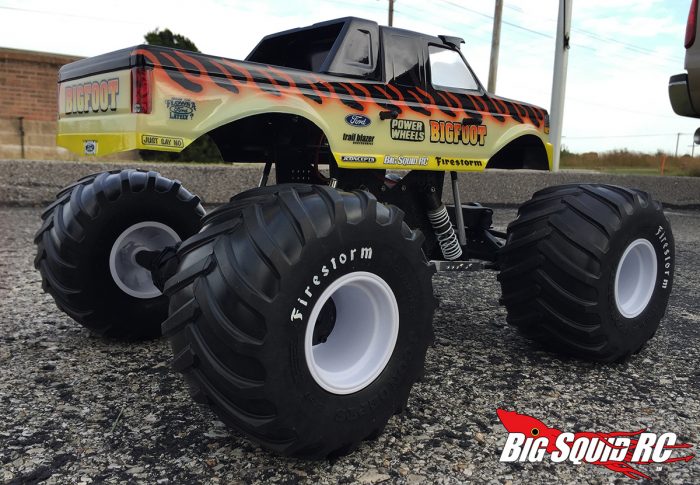 I had my friend and fellow monster truck nut Pat aka CustomPaintedRCBodies do up a new JConcepts '93 F-250 Super Cab in classic "Power Wheels BIGFOOT" paint to sit atop my CPE Ares / Axial mod truck. It turned out awesome!
Contrary to what many might think, it's very easy nowadays to hook up with a good painter. Facebook groups are usually a great way to find one as are traditional r/c message boards. Any painter worth their salt will also have some portfolio pictures and references for you to check out.
Prices can vary depending on how exotic you want your paint, but most fall around $50-$100 per job. Considering how much work goes into prepping and painting, this is normally a good deal.
I enjoy painting my own stuff when I can, but I'm also very aware of my limitations and know when it's best to get something done by an experienced slinger. I've probably had 10 bodies done by various painters over the years and I've never been disappointed.
The key to being satisfied with a paint job is to make sure you clearly communicate your expectations with the painter. If you are wanting something replicated then provide adequate reference pictures. If there is something super specific you want done, make sure they know that.
And hey, one thing I've learned time and time again is that you get what you pay for. While there are certain exceptions, generally if you are paying only $20 dollars for the job then maaaaaaybe temper your expectations for that fancy mural you are expecting on the side of your truck.
Regardless of whether you've done the job yourself or employed some mercenary help, there's nothing in the hobby quite like topping off your build with a beautiful body. It's the cherry on top.