Everybody's Scalin' – Onward to the BIGFOOT Open House
Fresh off the Chi-Town crew holding a big bash, there is no rest for the wicked as we will be at the BIGFOOT 4×4 Open House in Pacific, MO (just outside St. Louis) this weekend- Saturday April 23rd to be more precise.
The Open House is an annual event put on by the Bigfoot monster truck team which is held at their shop. Fans can get up close to the rigs, tour the facilities, meet drivers, and partake in several 1:1 car crushes.
My solid axle monster truck group, Trigger King R/C, is also hosting a big scale monster truck race with several classes (Modified Race Monster Truck and Retro), multiple events (racing, freestyle, long jump) and the general madness associated with getting 100 r/c monsters together in the same place.
I've been getting my personal Big Squid RC Green Monster fleet of vehicles ready (big thanks to Shane-Bud RC for the killer paint on my race truck seen at the top and bottom of the page) and just finished the newest member- a Kyosho Blizzard tank truck! Yes, I've been wanting to do one of these tank trucks for many years and I finally decided to get off my duff and do it. You'll hear more about this vehicle at a later date!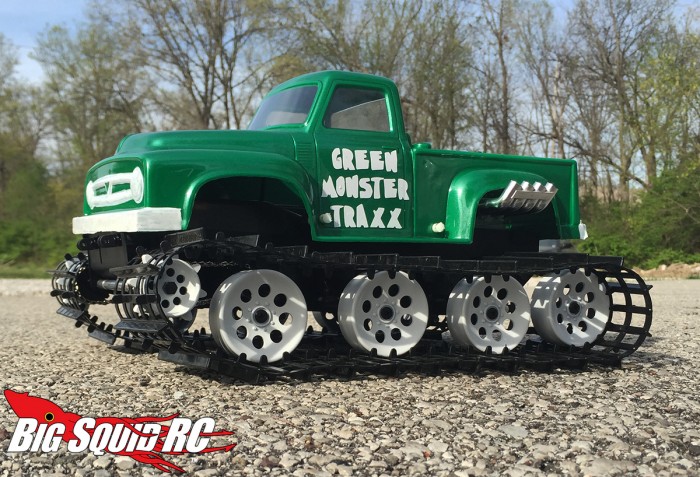 After years of coaxing him, our drift guru Evol has also finally taken the plunge and built himself a monster so he is making the drive from KC and gettin' down with us solid axle truckers for the first time.
If you are heading up Saturday please say hi! I'll be the guy either behind the computer, shooting pics, or barking at the competitors to quit picking their noses and get to the start line!
The event is completely free and if you'd like to see the event schedule including car crush performances you can click here.
Hope to see you there! If you enjoy monster trucks of any size you'll have a heck of a time!