Everybody's Scalin' – Pulling Truck Questions
This week I'm tackling a question sent to me by a reader.
Big Squid,

I was interested in getting into the RC pulling trucks and was curious where to shop for one? I have seen pictures of some of your all stuff and like them a lot. I have searched different places and can't seem to find anything. Nitro or electric? I'm most interested in 4×4 trucks, maybe tractors later on. Any and all help would be appreciated.

– Archie
As you are no doubt finding out, r/c truck and tractor pulling is a really niche thing where it's hard to get the 411 on what's what. Have no fear though Archie, as I'm a avid r/c pulling enthusiast who is happy to help spread the gospel. All my experience is with electric so that's going to be my recommendation. Electric pulling is much more popular than nitro, although some of the nitro rigs are really cool. It's not uncommon to see 3 or 4 engines crammed onto a chassis of a mod tractor.
Let's start with what you say you prefer, truck pulling. You can start off building a pro-stock style truck out of most any scaler chassis. Axial SCX10's are particularly popular for this. The main thing you need to do is remove the rear shocks and put bars in their place to completely lock the rear end. You'd then need a hitch and a front weight box or rack made out of aluminum or steel. That'll pretty much get you a good beginner truck.
That's a mild truck, but let's say you want something wild. There are several boss kits available. A JAWS (pictured above) or Termyte chassis are two good choices. You can also find several other builders putting out good product, but those seem to be two of the most popular. These trucks are great representations of 1:1 rigs and are built to perform across a variety of weight classes. The cost of getting into one of these beasts can be substantial though. You can be looking at anywhere from $500 to over 1k by the time you make your first hook to the sled, depending on a few build factors and whether or not you are resourceful enough to do a few things on your own.
Tractors are a bit dicier as while you can find a chassis relatively cheap, it's the bodies that can cost a small fortune. All of the bodies are hand built, usually wood. Some of the popular builders of said tractors are Sutton Motorsports, Mealy Motorsports and Iron Horse to name a few. The price is up to the individual builder and is almost always expensive due the hours it takes to hand craft one. Of course you can always bust out the balsa wood and do one yourself!
These vehicles are done in either individual or super small quantities so you aren't going to find one at Tower Hobbies or any other hobby shop. Your best bet is to join the excellent facebook group "RC PULLERS ONLY" as there is a gigantic wealth of knowledge over there. It's a message board of over 2k members and they can answer any question you may have. Most of the builders regularly post there as well. It's a fantastic resource that has helped me a great deal.
Brian has bugged me about doing a "turn an Axial SCX10 into a modified 4×4 pulling truck" build series for awhile now so hopefully sometime in 2015 I can make that happen. Until then though, if anyone has a question about pulling (or anything else scaler specific) don't hesitate to ask me; doug at bigsquidrc.com is my address. I also love to see cool reader builds and hope to show a bunch off soon so keep that e-mail rollin' in.
Oh hey, before we go…check out a teaser of our RC4WD Gelande 2 Cruiser. I had a lot of fun building and painting this rig. Look for our full review of the truck sometime in the next week or so (if mother nature will ever cooperate). Have a good one!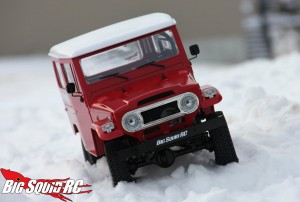 For more scale r/c news, including past Everybody's Scalin' columns you can click here.