EVERYBODY'S SCALIN' RACE DAY!
Race day brings out so many emotions in everybody. Excitement, nervousness, anxiousness, joy and even sadness. It's exciting to see how your car will handle after weeks of preparation and tuning. Nervousness of the unknown, whether it be how you're going to place, will your car make it through the race, or will you have a mechanical failure. Anxiously waiting for your time to get out on to the track. The joy of your car handling the way you want it to and performing well or even winning the race and sadness when your car didn't do as well as you would hope for or crashing in the first lap and ruining the whole day.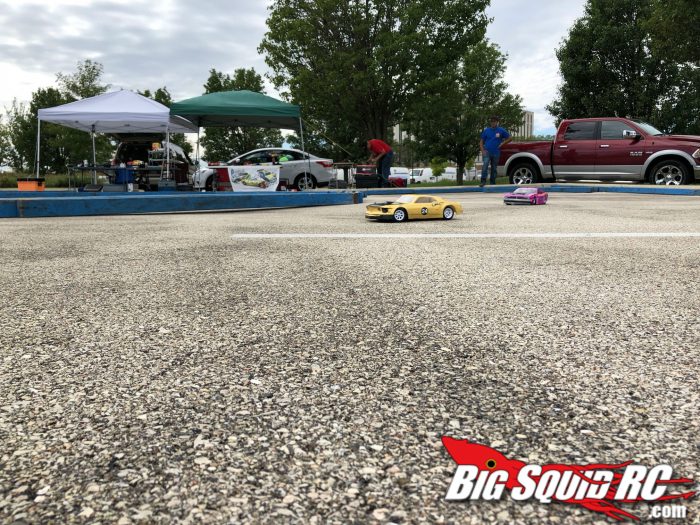 Last Sunday's VTA race was no different. It was extremely nerve-wrecking to show up to a race without even having any motor or ESC in my vehicle. I would definitely like to thank my buddy Kevin Dexter for supplying the Big Squid VTA car with a power plant. Once we had it all buttoned up I took it out and did a few practice laps. I normally don't run a whole lot of practice laps when I race, I try to save the car as much as I can for the actual racing. After a quick drivers meeting it was time to get down to business.
The first two turns the car felt great. Suspension was dialed in and it had the speed I needed. Then, about turn three there was a big pile up. Once everybody's car got off of each other it was back to racing. The little wreck didn't seem to affect the Big Squid race car at all. Sadly, on the second lap I took a turn a little too fast, kissed the wall and then lost all my steering. Just like that I saw my weeks of preparation flush down the toilet, that's where the sadness comes into play. Taking that long walk of shame off the driver stand to go see what was wrong with the car. Turns out it snapped the servo arm, but luckily one of the other racers had a part that I could use to get the car rolling again.
After fixing the steering servo problem I did a few laps around the track to see how it was going to handle. The steering was a little tight but good enough to get me around and turn some laps to finish the race. Once the second heat was underway the car did good for about 3 laps then it started to have more steering issues. I ended up finishing second to last but hey, it was still a great time. Yeah, we didn't win or even come close but in the end it was still a victory if you think about it. We took an on-road car that was beat on like it owed Big Squid money, minimally fixed it up, and had it racing. So, is this the end of Big Squids racing days? Far from it! I Plan on getting redemption for the Big Squid VTA car and some other sleeping giants in the Big Squid vault.
I would like to personally thank ABT electronics and Chi-Town RC.com for putting on this event. It was for a great cause and raised a lot of money for charity. I know racing is out of the Everybody's Scalin' realm. But don't worry, next week we will be back in the scale of things! Till next time, have a great weekend and keep scalin!