EVERYBODY'S SCALIN' – RC4WD TOYOTA 4RUNNER BUILD GOODIES!
Unbelievable! In a good way. The great folks at RC4WD sent us some goodies including a Trailfinder 2 kit. I have a few builds going on already but once that RC4WD box showed up at the Big Squid office I knew everything else was going to be put on hold. I have been really looking forward to doing this RC4WD kit that they sent us.
First off, the RC4WD Trailfinder 2 SWB kit. I wanted the kit version so I could customize and slap on some upgrades as I go, rather than taking a new RTR rig and having to tear it down. Second, BowHouse RC hooked us up with some cool stuff like their rear leaf shackle mounts. The BowHouse RC shackle mounts will prevent the rear from sticking when the suspension is fully compressed which tends to happen with the stock Trailfinder 2 shackle mounts. Along with the shackle mounts, we also got a BowHouse RC high clearance Skid plate for the Trailfinder 2. Like I said, it will be a lot easier to install those parts as I build.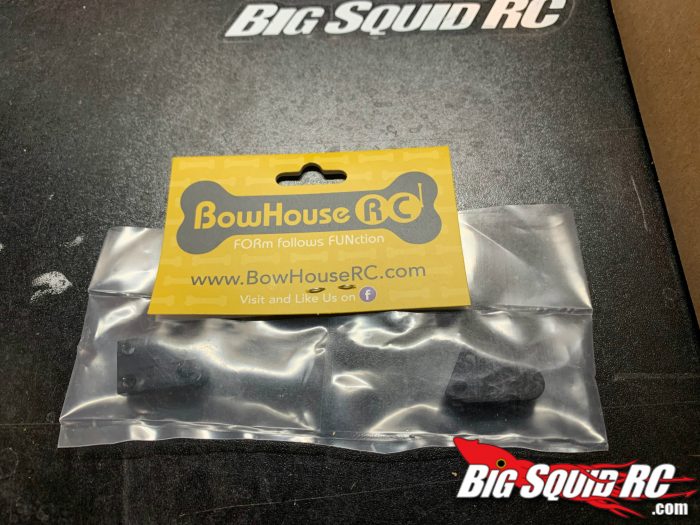 Ok, we got a chassis now we need a body, right? If you have seen the new 1985 Toyota 4Runner body from RC4WD then I'm sure you are just as impressed as I am. I mean how can you not be? Detailed interior, opening doors, a hood and tailgate, removable bed cap and officially licensed hard body. Most important of all… a STICKER SET! Ok so maybe that's not a key part of the RC4WD 4Runner body but it is a sweet set of stickers, just saying. The RC4WD 4Runner builds I have seen already look great. I am however on the fence about color. So far I'm thinking white, grey or black.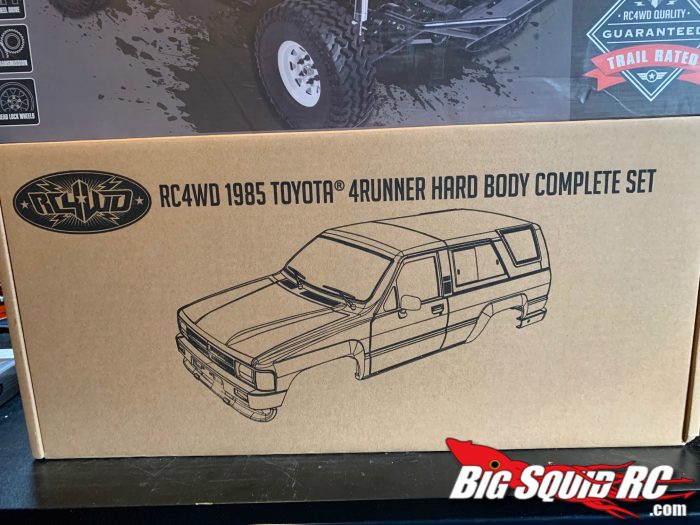 The classic look of the stock RC4WD wagon wheels are always a good choice. This time around we are going to use something a little different. I got a set of Truckie 1.55 Beadlock wheels. I have been holding on to them for a few months now and knew I was saving them for something special. Now the tires are RC4WD Goodyear Wrangler MT/R 1.55". As of now I only have two but ordered up the other set the other day.
Below you will find a parts list and a link to the RC4WD web page. We can't thank RC4WD enough for helping out with this build. Hopefully when I'm done it will be USTE 20 worthy! As for me, the build starts now. Have a great weekend and be safe. Remember, even though our hobby is fun accidents do happen so don't get complacent. Till next time, keep Scalin'.
RC4WD TRUCKIE 1,55 BEADLOCK WHEELS :https://store.rc4wd.com/Truckie-155-Beadlock-Wheels_p_5119.html
RC4WD TRAILFINDER 2 KIT : https://store.rc4wd.com/RC4WD-Trail-Finder-2-Truck-Kit_p_4888.html
RC4WD 1985 TOYOTA 4RUNNER BODY SET : https://store.rc4wd.com/RC4WD-1985-Toyota-4Runner-Hard-Body-Complete-Set_p_7220.html
RC4WD GOODYEAR WRANGLER MT/R 1.55 TIRES : https://store.rc4wd.com/RC4WD-Goodyear-Wrangler-MTR-155-Scale-Tires_p_5652.html
BOWHOUSE RC SHACKLE MOUNTS : https://bowhouserc.com/cnc-rear-leaf-shackle-mount-for-tf2/
BOWHOUSE RC NR2 HIGH CLEARANCE SKID : https://bowhouserc.com/n2r-high-clearance-skid-for-tf2-v5/