EVERYBODY'S SCALIN' – RC4WD TOYOTA 4RUNNER BUILD UPDATE
What is going on Scalin' world? This month has been a crazy one, that's for sure. And it doesn't look like it's going to slow down any time soon. After Horizon Fest I had to take it easy for a couple of weeks due to my ankle. Ok, I may have went on a few crawls that my Doctor might not know about, but in my defense the Chi-Town RC Crawlers are to blame, lol. In the little time I was wanting to relax I worked on the RC4WD Toyota 4Runner build.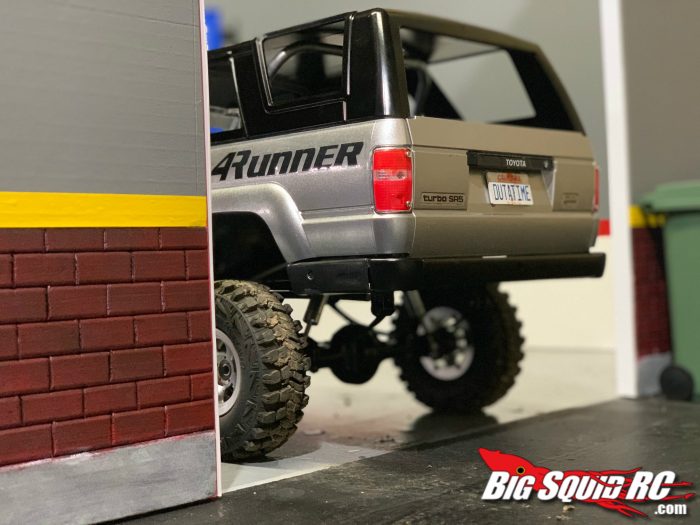 When I made a post on Facebook a while ago about using Flex Seal as a bed liner I got mixed emotions on how it would work. So I kept second guessing my choice but in the end I ended up giving it a try. After letting it dry 48 hrs the finished results were perfect. The bed now has a nice black rubber coating and also helps the color of the 4Runner pop. Now for something I have never done before and that's install functioning doors on a scale rig. The door jam you use to attach the the door can be a weak point if you don't secure it properly. I think you would have less of a chance of the doors falling off if the jam bracket was a fixed mounting point on the body.
There is always one problem I have when doing a RC4WD body kit and that's the marker lights. They come clear, not a big deal, right? Well, for me it is, I never have orange paint and this time was no different. After doing some scavenging, I was able to create an orange paint, problem solved. The 4Runner hood is also easier to install then the Blazer's. Screw down 2 brackets and your done, just don't over tighten the screws. I'm coming to the home stretch on this build and that's when things can get rushed. If any of you are like me at the tail end of a build then you know what I mean. You have spent so much time working on the rig you just can't wait to get it out on the trails. So then little details get missed or over-looked. Like, painting the radio knobs, trimming the center consul or putting on that one scale item that no one will know but you. I have learned that that's just cheating yourself out of your potential. And I am definitely not doing that with this work of art, lol.
After all this talk of the RC4WD 4RUNNER has got me wanting to get back into the scale shop. Have a great weekend and get some rigs dirty. Make sure to tag #bigsquidrc in your Instagram post for this weekend. One lucky person will receive a gift. Only way to find out what it is is to tag us in your post!
Till next time, Keep Scalin'
Read more Scalin' right here on BigSquidRC.