EVERYBODY'S SCALIN' – RC4WD TRAILFINDER 2 1985 TOYOTA 4RUNNER BUILD
What's going on everyone, this has definitely been an interesting week to say the least and finishing up the RC4WD Trailfinder 2 kit with the 1985 Toyota 4RUNNER body set capped it off. This build took me a long time to complete, had a few electrical issues in the tail end of the build but all is good now!
Doing The 4RUNNERS interior with fabric was a first for me, now it's not perfect but I definitely learned a whole lot of what and what NOT to do. Super glue is good and all but not when using fabric, when it dries you are left with a white dust. Most of the residue will come off but it's time wasted, half way through I switched to Shoe Goo and glade I made the switch. One thing I'm not happy about is the head rests, still trying to figure that one out, lol. Some of you may have seen my picture of the 4RUNNER in a glass case, by no means is it a shelf queen, it's just a cool way to display a cool rig.
The first trail run was extremely stiff but by the end of the run it started to break in. The magic number for the 4RUNNER is 6, by the 6th battery pack the trucks suspension was broken in. Yes, I have been driving this rig non-stop and it even has some trail scratches. When RC4WD released the 4RUNNERS video I loved it and watched it about 20 times. I definitely wanted to try the same style video for the 4RUNNER, here is where it gets tricky. About a week ago I sprained my other ankle real bad and now I'm stuck in a lovely boot. Unlike when I got hit by a very very very fast RC car this injury has put me on the bench for 3 weeks. My normal way of filming was out of the question. The entire video was shot using a selfie stick, sitting on a lawn mower or sitting in a lawn chair. Giving my restrictions I think it turned out decent and if you haven't seen it make sure to check it out here: Awesome Lost Tape RC4WD Toyota 4runner video.
Right now I am using the RC4WD 2 speed trans manually and for right now it's not bothering me enough to put in the servo to switch gears from the remote. The low gear on the R3 Scale 2 Speed Transmission is this rigs sweet spot and it just digs! The skid plate and rear shackle mounts we received from BowHouse RC are key components to the 4RUNNERs performance and will be a must for future builds. Once the RC4WD 4RUNNER is at USTE 20 it will have all the scale goodies I'm planing on using but those won't be seen until then. That's right, Big Squid RC will be attending The Ultimate Scale Truck Expo 2020 in Williston Florida February 21st – 23rd.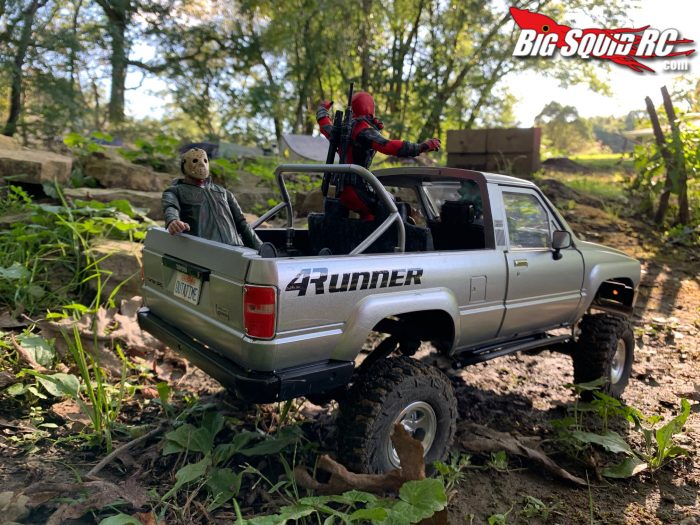 Speaking of Scale RC events make sure to check out RC4WD West Coast Scale Challenge coming up October 25th – 27th in Lake Kaweah California. Don't have a RC4WD rig? Don't worry, this event allows all manufacturers. Head over to RC4WD.com for more info. We definitely want to thank RC4WD for hooking us up with this wicked build. And BowHouse RC for kicking in some killer upgrades. Well that does it for this weeks Everybody's Scalin'; till next time, have a good weekend and Keep Scalin', later!!