EVERYBODY'S SCALIN' – REAR SEAT FOR THE RC4WD BLAZER BUILD
What's up everybody, last week the plague hit my home, so I didn't get time to put out a post. With The Ultimate Scale Truck Expo only 14 Days away and only having 6 more days to finish up the builds it has been crunch time. Out of the 4 rigs we are bringing, the RC4WD Trailfinder 2 Blazer still needs the most work to be complete. Getting the interior finished and installed has been a massive turning point in this build. The RC4WD Blazer is a beautiful body but by now I'm starting to go crazy from looking at so many 1.1 pictures for comparison on the build.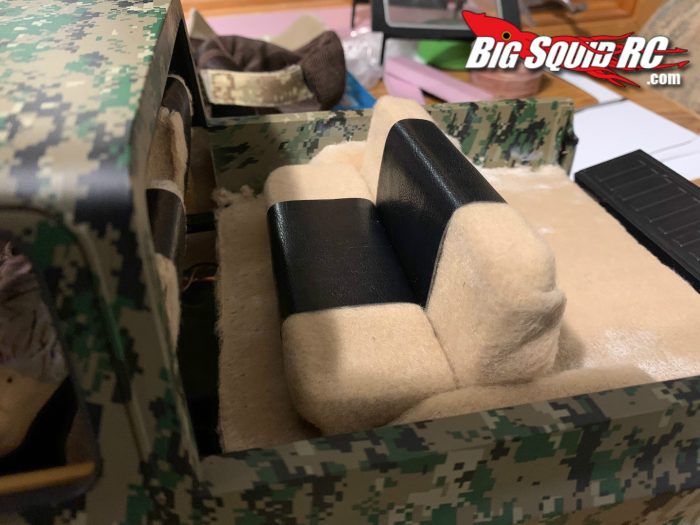 The 1.1 1976 Chevrolet Blazer had a back seat, but the RC4WD version doesn't come with one. I wanted to make a back seat that would resemble the 1.1 rear seat as much as my skill level will allow. Once again, I turned to foam board insulation, it's a little thicker than I would prefer but it will work. As soon as I had the measurements for the rear seat, I started shaping the seats with a hobby knife, rounding off the corners so it looks like a seat and not a park bench. My confidence went from a 4 to a 10! Stepping out of your comfort zone is not easy to do, when you find things that work for you the last thing you want to do is mess up a build by trying something different. But if you never try you are only cheating yourself out of your full potential. I can admit, when it comes to doing an interior for bucket seats it's a hit or miss. I still haven't figured out how to properly cut the cloth so it will fold over without bunching up. But the more I do it the more confidence I gain, and that confidence is the fuel you need to push yourself to be a better builder.
Unlike the bucket seats the rear bench seat for the RC4WD Blazer is a walk in the park in comparison to do the upholstery. And I would have never known if I didn't step out of my comfort zone. This build has definitely tested my patients and skills, but it is turning out to be one of my favorite builds to date. Even if no one sees the little details I put in, I know they are there and that's all that matters. So, if you are looking to make a back seat for the RC4WD Blazer body I hope this helps guide you in the direction to take your build to that next leave of awesomeness!
Now that the body is just about wrapped up it's time to start working on the mechanics of the rig. Since I got this rig used, I'm not sure how much I trust the electronics. Rather than risk it like I did with the Baywatch Truck last year I'm going to put in some newer electronics. Then, it's time for the scale transmission from RC4WD, so be on the look out for that video real soon. Have a great weekend and get out and hit those trails! Till next time, Keep Scalin'.