Everybody's Scalin' – Rust in Piece
Man, this summer has been flying by. Can't believe it's already the weekend of the 4th!
Not sure what it's been like in your particular neck of the woods, but here in Missouri we've had temperatures in the 70's and 80's for the better part of two weeks. Normally you can cook an egg on the sidewalk this time of year, so having several weeks of fall in the middle of summer sure has been great.
I've been making the most of the good weather, getting in plenty of trigger time with my scalers and monster trucks.
You may of noticed this yesterday, but in case you didn't, our friends at FreqEsKinz announced some sweet looking new primer & rust vinyl skins for a variety of popular RTR bodies. These are a great way to to change the look of your stock truck without having to break out the spray can or airbrush. I'm particularly fond of this Chevy cab for the Vaterra Ascender-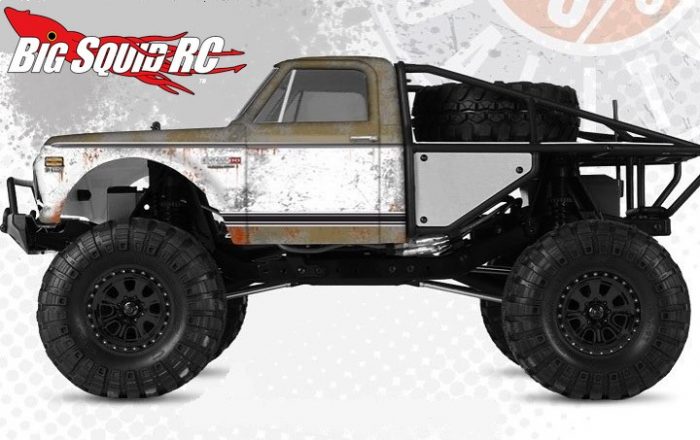 While rusted paint jobs sure look cool, actual rust is not. In fact, it's quite awful. It can range from annoying (when bead lock screws start to rust) to panic inducing (axle and transmission gears).
It's hard to avoid running through water. Even if you don't care to ford rivers, it's easy to get wet on a typical trail run. There are a couple cheap items to add to your pit bag that will make your life easier, and you won't have to fear the wet stuff as much. Even if you don't carry a full on tool kit when heading to the trail, keep these in your car.
An old towel, a spray can of Pam and canned air.
If you plan on running in mud, use a quick spritz of Pam on your axles and running gear and the crud will come off pretty easy. This is an old motocross trick.
A quick shot of canned air after a run is usually a good idea. It can blow water and muck off your rig, helping to avoid rust in critical areas. An air compressor is obviously preferred, but most folks don't have access to a portable one. Removing your wheels and tires, blowing off the axles (especially around your hex area), transmission and driveshaft joints can do wonders as far as prolonging the longevity of your running gear.
The towel is pretty self-explanatory, but hey, seriously, rust can start to form very fast so drying off your vehicle immediately after a run versus waiting until you drive back home (even a quick pat) will help avoid it.
If your truck does develop creaky joints, you can use WD-40 lightly and that should take it off. For wheels and other more sensitive surfaces, using some "Nevr Dull" (yeah, it's spelled that way) polish works amazingly well.
Stay dry and enjoy the holiday weekend!