EVERYBODY'S SCALIN' – SANTAS LIST!
As Christmas quickly approaches, what better time than now to go over a few rigs that would make great gifts for under the tree this year! Since I already burned up my next 6 Christmas's by buying a Side by Side, I will be living vicariously through all of your RC gifts this holiday.
ELEMENT RC ENDURO SE TRAIL TRUCK, SENDERO RTR.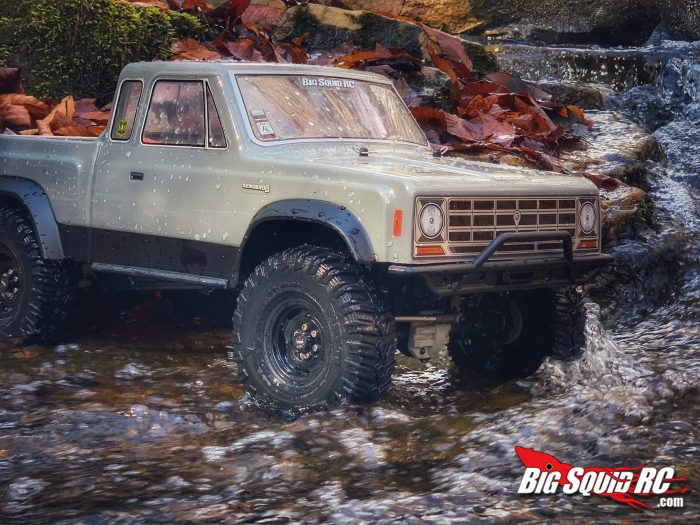 $299.99
 The new Element RC Sport Edition takes you on a journey at a fraction of the cost. No matter if it's a seasoned scaler or someone getting into the hobby, the Sendero Sport would be the gift that keeps on giving. Make sure to keep the box, it doubles as a scale garage!
FEATURES:
* Inspired by 80s and 90s truck styling
* High-strength polycarbonate one-piece body
* New front and rear bumpers fit snugly against the body
* Comes with a pair of front injection-molded inner fenders
* SOA & BTA steering
* New axles with larger input bushings (upgradable to bearings)
* New diff covers feature the ability to add weights on the inside
* Threaded plastic shock bodies w/ bleeder screw caps & mini springs
* Reedy Power 5-slot 16-turn brushed crawler motor
* Water-resistant Reedy SC480X brushed ESC
* Flysky FS-G4P 2.4GHz 4-channel radio and receiver with ANT protocol
* Reedy Power 1523MG (metal gear) water-resistant servo
* 1.9″ Steelie bead lock wheels
* Aggressive 1.9″ x 4.75″ PinSeeker tires
* High clearance front and rear bumpers
* 12.8″ wheelbase
* Adjustable front and rear bumper mounts with integrated winch line routing
* Adjustable width rock sliders
FMS MODEL MAX SMASHER 1/24 FCX24 MONSTER TRUCK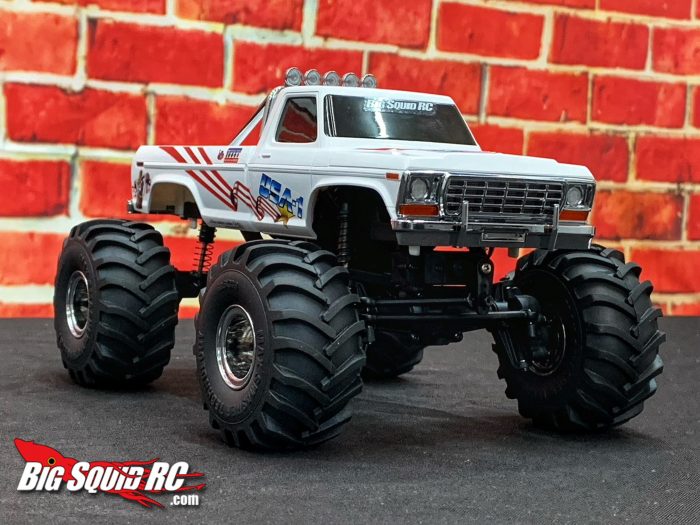 $159.00
This little rig will give you hours of fun weather your outside or inside. The smaller size allows you to have fun anywhere. Creating a small Monster truck event in the living room and seeing Grandma get down, is sure to make memories this season. And the Max Smasher fits in a stocking, making it a great stocking stuffer.
FEATURES:
 Two speed transmission (controlled by the third channel)
Front and rear axle planetary gear differentials
Ball bearings full set
Remote control lighting system
Portal axle
Metal gears steering servo
Four link suspension
High strength integrated nylon frame
Rapid separation car body
Painted body
Plated scaled details

RC4WD Trail Finder 2 "LWB" RTR w/ 1987 Toyota XtraCab Hard Body Set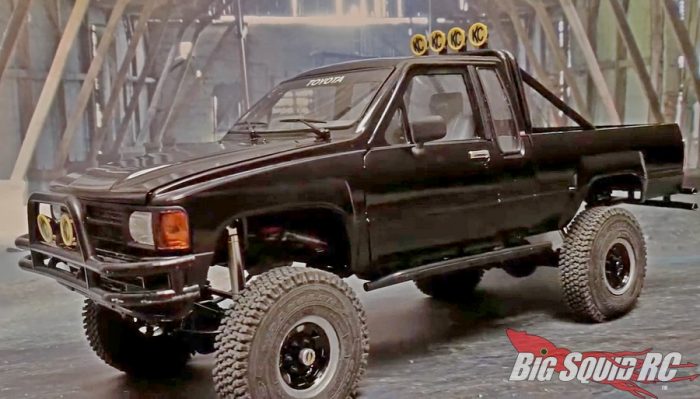 $524.99
 If you are really looking to make it a Christmas to remember, then RC4WD has you covered. The Trailfinder 2 LWB 1987 Toyota XtraCab, also known as the Back to the Future truck, has gone on sale and is a steal for anyone picking it up. The scale details and proportions are on point and will make a great addition to anyone's collection.
FEATURES:
 Fully licensed by Toyota
* Classic Toyota pick-up styling with a glossy painted, hard plastic body
* Licensed KC HiLiTES KC Light Set
* Doors, hood, and tailgate open
* Yota 22RE engine bay
* Licensed Goodyear Wrangler All-Terrain Adventure 1.55″ tires
* Custom painted OEM 6-lug stamped steel 1.55″ beadlock wheels
* CNC machined scale Yota style hubs
* Long wheelbase TF2 chassis with R3 single speed transmission
* Brushed 540 45-turn motor and Outcry III waterproof ESC
* RC4WD Ultimate Scale Shocks
* Realistic billet aluminum ladder frame chassis
* Center mounted realistic Hammer transfer case
* Comes with battery pack and charger
* Yota II Ultimate Scale Cast Axles
* Twister high torque metal gear digital servo
* RC4WD Marlin Crawler side plastic sliders
* Double steel tube bumpers & headache rack
$124.95
 Maybe the person you are buying for already has a lot of rigs and doesn't need a new one, at least yet. Then the CarryAll V2 bag would be a great gift for the RC driver on the go. The bag has more pockets and tons of room for activities. Not only will they look great on the trails but will be prepared for whatever adventure is around the bend!
FEATURES:
Aluminum X – BASE MODEL fitted with RC CAR Action Vinyl Wrap
o X comes standard with a 3" diameter Cow RC Pro Mag center
o Customize your X with our ever-growing inventory of vinyl wraps to make it match your style/additional fees may apply
CARC First Aid kit is included for those times you have a bit too much fun
Save money with the included promo codes from our Technical Partners
Quick connect Side mount for your transmitter when not wheeling your RC
Hopefully this list can help with those last-minute shoppers, like myself. Have a great weekend and keep scalin!