EVERYBODY'S SCALIN' – SHRINKRC BENCH SEAT FOR THE RC4WD TF2 CHEVROLET SCOTTSDALE!
As we predicted, the new RC4WD Trail Finder 2 LWB Chevrolet Scottsdale has sent the scale crawling world into a frenzy. And, rightfully so. When I heard We were getting the new Scottsdale, I imagined the RC4WD Blazer with just a longer bed and that was it. I have learned over the years that when I get insider info on new rigs, is to aim low with expectations. This way when the new rig shows up, the surprise is real and the rig can get a fair shake down.
Without seeing any photos of the new TF2 Scottsdale I put in an order to our good buddy ShrinkRC. I picked up a Bench seat, door panels, and a set of Dually fenders. As well as a rear bench seat for RC Everyday's Blazer I have while we are doing "Trading Spaces" with our square body's. Once the new TF2 Scottsdale arrived to the Big Squid Kentucky HQ I was very flabbergasted, that's right I said it, flabbergasted at the new rig. The first thing you notice is the paint, and how well of a job it is. Then you see the door panels, and that RC4WD raised the dash. All the stuff we have been doing for years they fixed for the most part.
When it came time for me to add the details my work time was cut in half. Starting with the basics, I trimmed the windows, door jams, and cut the interior floor to make a flat floor. I learned this trick from Greg Holman. Using a clear Lexan sheet for the floor made things really easy to modify. Covering the floor, I used the backside of my gray leather material. Looks good, and it's like a 2 for 1 deal. I used the leather side to cover the ShrinkRC bench seat.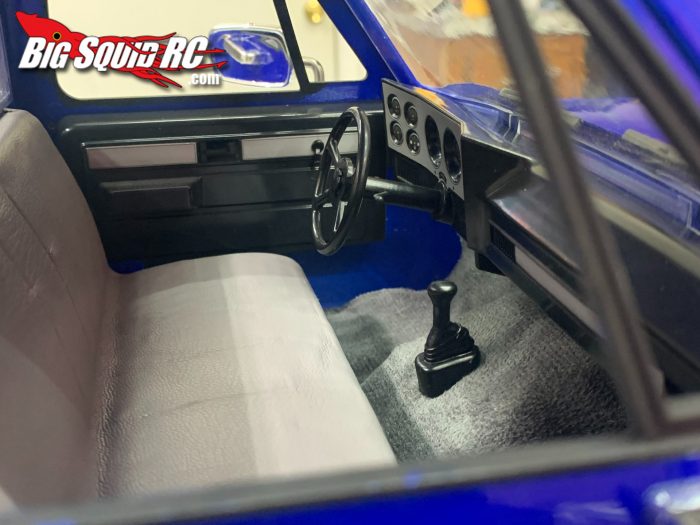 I and very happy with how it turned out and already have ideas for the next round of mods. If you haven't yet, check out our videos on the new RC4WD TF2 Scottsdale! Until next time, have a great week and keep scalin'!