Everybody's Scalin' – So Much News
It's been awhile since I've done one of these posts discussing news as 2015 has been pretty slow on the "major scaling news" front. We've had lots of accessory announcements, but nothing huge. Heck, using last year at this time as an example, the hobby was caught up in Yeti-Mania. There really hasn't been anything released in the segment this year that's generated that sort of hubbub.
While perhaps not at the level of the Yeti release, the news cycle has finally started to get churning for the Holiday 2015 shopping season, what with several new release announcements. I'll tackle them scattershot style.
Gmade Komodo – Gmade has been heavily teasing the release of their new scaler, the Komodo pickup truck. While details are scant at the time of this writing, you can see in the pictures that it's an SCX10 style 4-linked rig, i.e. NOT leaf sprung like the Sawback. It has a lot of scale accessories from the factory (the engine snorkel is really cool) apparently. The Sawback is a very fun truck to drive, so it will be interesting to see how this new "high performance" scale crawler performs. This looks to be the third true competitor to Axial's much balleyhoo'd platform, with the other being the Vaterra Ascender (I'm not forgetting RC4WD, it's just that those are way more detail/scale oriented and as such I think of them differently). And speaking of the Ascender…
Vaterra Ascender Ford Bronco – Vaterra just announced a classic Ford Bronco topped version of their Ascender. This body utilizes a shorter wheelbase than the original K5 Blazer and does away with the rear bumper. That seems subtle but after having spent a good amount of time wheeling my Ascender, leaning it up a bit (especially the bumper) could help a lot on tight crawls. Hey, the Ascender is a heck of a platform so it's great to see that it's been so successful that they've done a second version of it. Old school Ford fans are sure to love it.
Axial Jeep Mighty FC & NuKizer Bodies – I've talked about these before, but it's nice to finally see an official announcement. Almost immediately upon the announcement they were on hobby shop shelves, and if you do some digging you can find pictures of them sitting atop rigs "in the wild" already. They look very nice. I'm hoping to use the Mighty FC on a short wheelbase SCX10 build very soon. I'm also mulling over dropping a scale V8 in the bed, hehe.
Updated RC4WD Trail Finder 2 The Trail Finder 2 has long been the rig that super hardcore scalers searching for an authentic miniature off-road experience have gone for. Now it's updated, most notably with a tweaked hardbody, better driveshafts, and a stronger transfer case. These should be available soon. The Trail Finder is probably the last mainstream scaler that I've never built….I need to change this over the next year.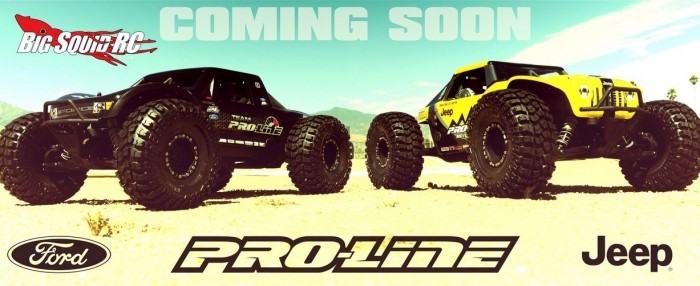 Pro-Line Yeti Bodies – Another product that's only been teased at the time of this writing, these lids both look incredibly hot. They also change the attitude of the vehicle considerably, especially the chopped Ford. The make the Yeti look more trophy truck, less rock buggy.
SSD Axle Housings SSD has burst on the scene, quickly going from upstart to one of the hottest scale hop-up suppliers on the market. Their new axle housings, designed for Axial AR60 applications, look amazing. Before my Squid days I used to work for a shop that manufactured 1:1 housings like this, so let me tell you – these things REALLY look the part.
Ok, that's enough for now. I think you get the point. The hobby is finally starting to heat up as manufacturers prepare to slug it out for your dollar over the Christmas season. Scalers are a coveted market right now, and as such be prepared for more announcements targeting our segment of the hobby. I've heard rumors of a couple REALLY interesting things to be announced soon-ish, but you will have to stay tuned for those as "the powers that be" would leave me in a ditch if I were to start squawkin'.
Click Here to see more scale r/c news on BigSquidRC