Everybody's Scalin' Spotlight "beetle"
I always like to see when people mirror their 1:10 vehicles to look like their 1.1 vehicles. This Everybody's Scalin' Spotlight is all about that. Straight out of Plano Texas, Lane Muropa has achieved the scale mirror trick with his Volkswagen Beetle. Whenever I see an old Beetle or Punch Buggie I always think of Herbie the Love Bug. But when I saw Lane's that did not happen. I could tell right away that he had put a lot of effort into into this build.
Using a Tamiya M-06, with a few chassis modes like oil dampeners and a lipo system, Lane knew he had the perfect match for his 1.1 1969 Beetle. He painted the body and rims to match, along with custom making the roof rack out of brass stock to look exactly like the rack on his 1.1. What really makes this little bug stand out is the lights. By making his own lights, using grain of wheat bulbs, he was able to get that yellow glow from the headlights. Just like his 1.1 or any old car for that matter. Yes kids, there was a time when the lights on a 1.1 were not led's. May not seem that hard but anytime you make your own lights it can be a hearty task.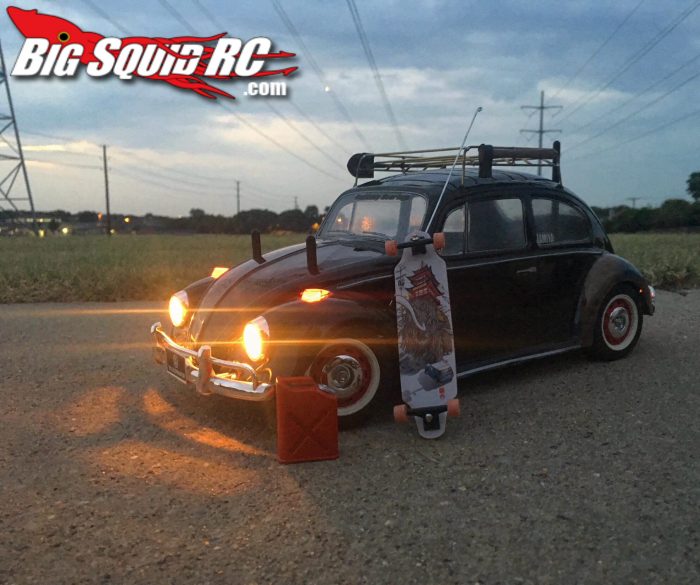 To be honest, up until a week ago I really haven't been able to play with any of Tamiya's products other then their RC paint. Seeing Lane's Beetle has definitely sparked an interest in me to finally pull the trigger and do one of Tamiya's kits. Lane is a college Student, given his budget, I think he has done a fantastic job on his Beetle build. Some of the plans he has for his Beetle in the future will definitely make Herbie the Love Bug spill his oil in fear. Lane, keep up the awesome work bud and have fun with it. Be on the look out for your Big Squid sticker pack! I hope to see some pics soon with Big Squid RC stickers on your 1:10 and 1.1 Beetle's.
Side note:
We have some awesome stuff coming out,  RC4WD goodies, a Big Squid RC VTA Race car build for an up coming event and a whole lot more. So make sure to stay tuned and keep up to date in the Rc world here at Big Squid Rc.
Want to see your build in the Everybody's Scalin' Spotlight? Keep posting pictures and I can assure you I will see them. Who knows you might be the next spotlight! Till next time.