EVERYBODY'S SCALIN' – SQUID TO THE FUTURE UPDATES
Its officially go time for the Ultimate Scale Truck Expo, now is the time of year where we must put all our ideas into motion and start making them into a reality. I think we have upped our game for USTE 2021 compared to the previous ones we have attend, a big part of that goes to Greg for his enthusiasm and passion for the scale hobby and for that I thank you good sir!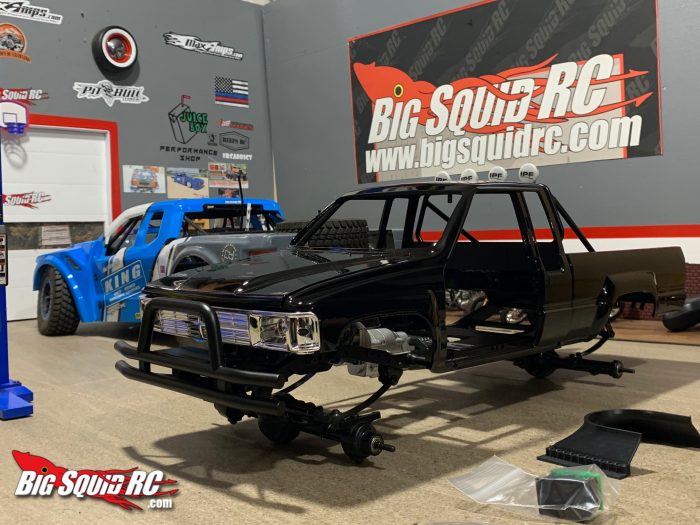 Got some build updates on what I think I will start calling the Squid To The Future collection because we seem to have theme going. First up is the RC4WD 1987 Toyota Xtracab LWB a.k.a McFlyota. This build is taking a little longer than expected, 100% due to how slow the mail has become, I am happy to say we have received our scale Toyota 22RE and some extra goodies that I will go over some other time from Scale Design by MrCommaD. Along with the wicked motor the RC4WD Xtracap body has a beautiful smooth Black Paint job and is starting to take shape as Marty's Truck.
As for the Eagle Moss DeLorean the Chassis is in the stages of being made into a RC. The Eagle Moss DeLorean is a model, but the steel chassis is a perfect canvas for RC art. The worst of it was having to stop myself when I was in a good building rhythm because I knew if I keep going it would have been a pain to fabricate. This build is making me very anxious, probably because It has been 3 years in the making. Ever since I had to stop on the DeLorean I have not stopped pacing the work shop and the rest of the house for that matter. I am sure after the live stream build with RC Jesus on the Ultimate Scale Truck Expo Facebook page tonight at 8:30 pm cst will keep my mind occupied with our 1:14 scale semi build sponsored by Remote Control Hobbies of Orlando FL. Brought to you by Carl's Jr lol
Well that about wraps up the Saturday version of Everybody's Scalin', have a great weekend and keep scalin'