EVERYBODY'S SCALIN' – "TAKE MY MONEY" SUMMER EDITION
Its time for the Summer "Take My Money" Awards! We will probably have few more rigs come out this season but for now, these 3 rigs will be a great start to a Summer of fun.
ELEMENT RC ENDURO ECTO TRAIL TRUCK RTR 
 PRICE: $389.99
SPECS:
Power Source:  Electric
Terrain: Off-Road
Body Style: Truck
Scale Size: 1:10 Scale
Assembly Level: Ready-To-Run*
Length: 462mm (18.19in)
Width:  236mm (9.29in)
Wheelbase: 325mm (12.8in)
Weight: varies
Gear Ratio: varies
Drive: 4WD
The Element Ecto is the newest rig in the Enduro line up, sporting a classic Mopar look and utilizing the Gatekeeper chassis the Ecto is looking to be King of the hill this Summer. I am a fan of the Gatekeeper, in fact the recent remodel of Juicebox Off-Road Park is centered around the Gatekeeper. having more challenging terrain for the rig has made the performance of the vehicle really shine and is opening a more technical driving experience.
TRAXXAS TRX-4 2021 FORD BRONCO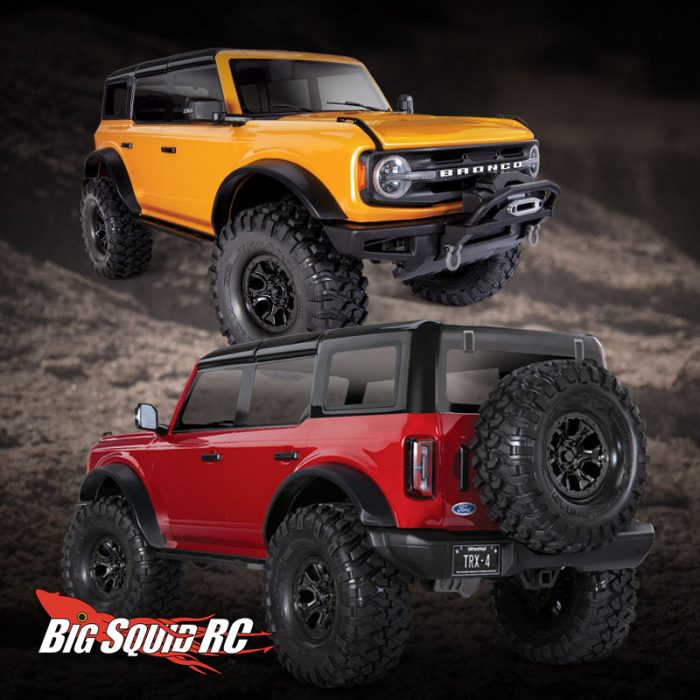 PRICE: $549.95 
SPECS:
Length (overall):               22.98 inches (584mm)
Length (chassis):               21.59 inches (549mm)
Front Track:        9.78 inches (249mm)
Rear Track:          9.78 inches (249mm)
Ground Clearance:          3.14 inches (80mm)
Weight: 6.42lb (2.91kg)
Height: 9.4 inches (239mm)
Wheelbase:        12.8 inches (324mm)
Front Shock Length:        3.54 inches (90mm)
Rear Shock Length:          3.54 inches (90mm)
Front Wheels:   1.9 x 1.02 inches (49 x 26mm)
Rear Wheels:     1.9 x 1.02 inches (49 x 26mm)
Front Tires:         4.64 x 1.89 inches (118 x 48mm)
Rear Tires:           4.64 x 1.89 inches (118 x 48mm)
Approach Angle:               52°
Departure Angle:             49°
The Traxxas TRX-4 chassis has more than proven itself worthy as one of the top RTR platforms, with a fleet of variations from a Chevy Blazer to a Tactical unit. With its easy-to-use system and the massive amount of new people in the hobby, the new 2021 Ford Bronco is sure to be a favorite on the trails this Summer. I am looking forward to the new lighting kits for the TRX-4, from what it sounds like they will be wicked!
RC4WD TRAIL FINDER 2 RTR 1985 TOYOTA 4RUNNER HARD BODY SET (LIMITED EDITION)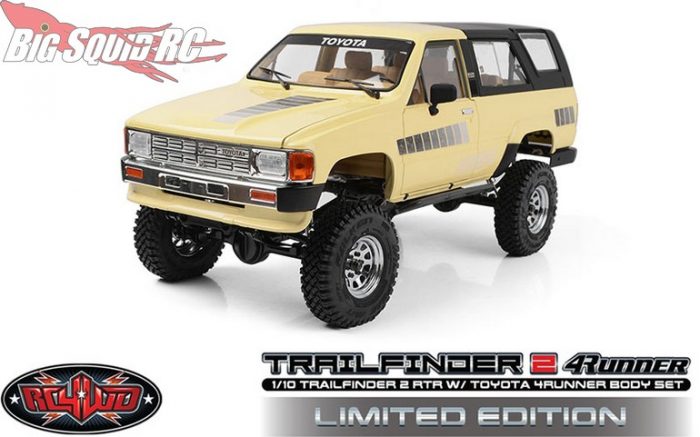 PRICE: $569.99
SPECS:
Wheelbase: 287mm (11.3″)
Width: 205mm (8.0″)
Height: 227mm (8.9″)
Ground Clearance: 59.8mm (2.36″)
Final Drive Ratio: 31.93:1
Limited Edition rigs are not only cool but adds a collector aspect to the hobby, RC4WD has done a few Limited editions before and like the previous ones the new 4Runner is killer scale. Pre painted with a classic Toyota scheme the 4Runner also includes the new molded plastic engine bay that is also painted and decaled. The wheel and tire combo on the limited 4Runner is spot on with a set of OEM 6-Lug stamped steel 1.7 Beadlock Wagon wheels and Falken Wildpeak M/T 1.7 scale tires. I have said it once or twice, but I think 1,7 is the best fit for scale rigs. Make sure to jump on this deal of a rig before they are all gone!
What ever you pick up this Summer I'm sure it will be wicked! Have a great weekend and keep scalin!