EVERYBODY'S SCALIN' – THE BLUE SCX10 III
Hello everyone and welcome to this week's edition of Everybody's Scalin'!  Since Axialfest I have had a ton of emails and messages asking about our Axial Racing Blue SCX10 III roof rack, so I Figured along with posting a couple links to the articles, I'd follow that by the run video from Axialfest 2020, and that should make for some good bathroom media today. Our Blue SCX10 III has become One of my go-to riggs, the overall performance from the SCX10 III platform is impressive. And once you add a nice set of scale tires from RC4WD it makes it even better. The tires on the rig also came up in a few emails and questions, they too are from RC4WD and despite their extremely stock look, they perform great, and have me interested in getting a few more sets. But do not just take my word for it as I always suggest, always make your own decision and do not just go off what people say. It's your rig and you are the one driving it, what one person might not like, the other one is in love with I cannot get enough of it.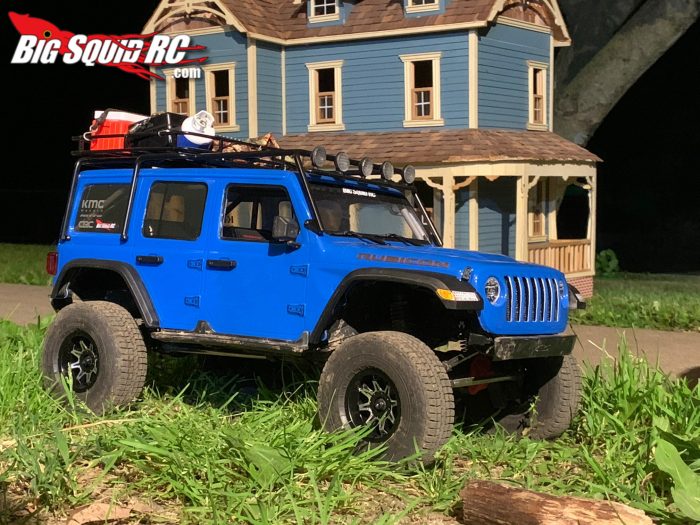 If you see anything you like on our SCX10 III make sure to come back and check out the links so you can go direct to the source, like in this post where we were Getting Dressed for Axialfest/.
As some of you know I am still in recovery from a shoulder surgery and doing better every day. It has not been easy though; I am an extremely left-handed person and of course that is the shoulder that had to have surgery. Once I learned how to eat with my right hand Without flinging food across the room it has not been too bad. And I have been quite lucky, I have had a Lot of friends stopping by to hang out and play RC cars, and help with Juicebox off-road park maintenance. I did however manage to make a few trails only using my good arm and my feet. Since I cannot do any building right now, it is giving me a lot more time just to run a wide variety of our rigs that have been collecting dust. You must find the good side in everything and never dwell on the negative.
And that Wraps up this week's edition of Everybody's Scalin'! Have a wicked weekend, remember to share your pictures with us in our Big Squid RC Facebook group because we love seeing them!!