EVERYBODY'S SCALIN' – THE SQUID RIG!
Hello everyone and happy Friday, the Tamiya King Hauler that Remote Control Hobbies of Orlando Florida sponsored for this years USTE was a ton of fun to build. The Squid Rig as I have been calling it was a first for me in the 1:14 world, but not the last. After seeing the wicked rigs of USTE I learned a lot like, how to make a cheap trailer and some interior ideas. At USTE 2020 Nick Barber the owner of Remote Control Hobbies seen how interested in the scale big rigs we were and made sure we would have one for USTE 2021. USTE 2020 was the first year for the 1:14 scale semi's, Nick made it a mission to get more people involved for USTE 2021 and it worked. Not only did the rig count go up but the size of the layout doubled!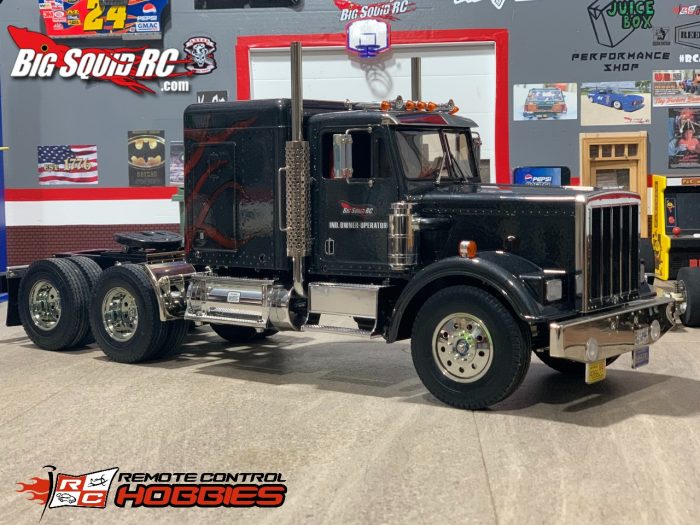 Now I have done RC kits before but I am not going to lie, the Tamiya King Hauler was a little intimidating when I first opened the box, after sorting out the parts and getting organized the feeling stated to subside.
Usually kits only have a bag or two of hardware, the Tamiya King Hauler had six so rather then get lost in hardware I put each bag of hardware into its own tray and that helped keep the build organized.  The manual for the King Hauler was one of the easiest to follow, giving the amount of screws and C-clips each page had the correct size hardware comparison images witch made the build a breeze. When it came to the transmission I was surprised at how well it went together, now I don't even like doing single speed transmission's let a lot a three speed, but the manual guides you along the way. The only thing I had to go back a redo was the first axel, its very easy to install upside down and you will know if you did when you go too power it up and one axel is turning one way, and the other is turning in the opposite direction. Luckily it is a easy fix and humbling experience to say the least.
Wanting the Squid Rig to standout from everyone else, I knew it had to have a wicked paint job but I also knew that what I had in mind was above my skill level. My neighbor is very talented with airbrushing and did the squid on the back of the cab, from there it went to our boy Greg Holman for its clear coat. I can paint, but not like those two, with the collaboration from the two of them the Squid Rig has become a head turner!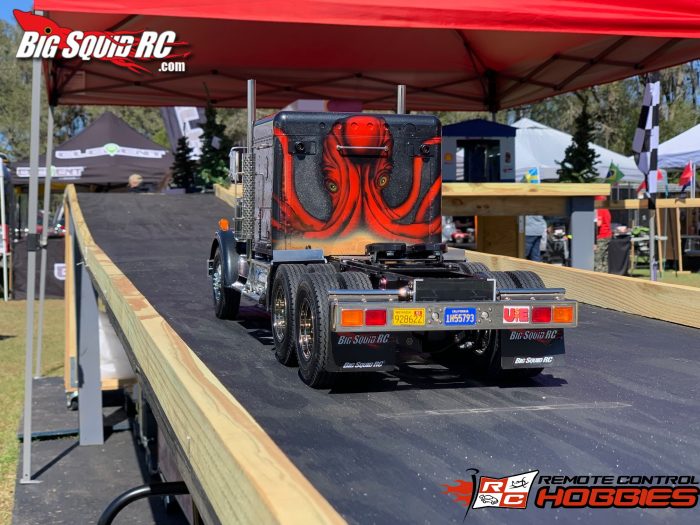 DSM Off-Road chipped in with hooking us up with a full set of bearings for the squid rig. the Tamiya King Hauler comes with bushing and are not the best to use so if you are going to do a Tamiya Semi build I would suggest hitting up DSM Off-Road for a bearing kit. Hitec also lent a hand in the build, with getting us a Hitec D956WP servo making sure we would have no issues with turning power when we are pulling big loads! Big thanks to both Hitec and DSM Off-Road for helping us get the Squid Rig in great working order.
This build helped me get through some tough times, after loosing my Grandpa and a few other friends in a short time the Squid Rig kept my mind occupied rather then letting it get the best of me. Sometimes people need an outlet, and RC has always been mine, no matter how crazy life can get RC has helped me deal with the issues in a healthy way. We would like to thank Remote Control Hobbies of Orlando for trusting us with a build to represent the best hobby shop in Florida!
Till next week have a great weekend and Keep Scalin'!