EVERYBODY'S SCALIN' – THE STARTING LINE!
Normally Memorial Day weekend I hold the Juicebox Off-Road Park Summer opener. And like all the other events I had to push it back to, well I have no idea. On a positive note the postponement has freed up my time to start the Tamiya King Hauler we received from Remote Control Hobbies – Orlando, FL.
When I opened the King Hauler box it was a little over whelming. The King Hauler is my first Tamiya kit. After I glanced at the instructions, I quickly realized they were not too hard to follow once you get started. Before every kit build l like to take all the part bags, dump them into individual containers to avoid any mix ups. Then lay out the part trees, blast the shop stereo and get lost in the build.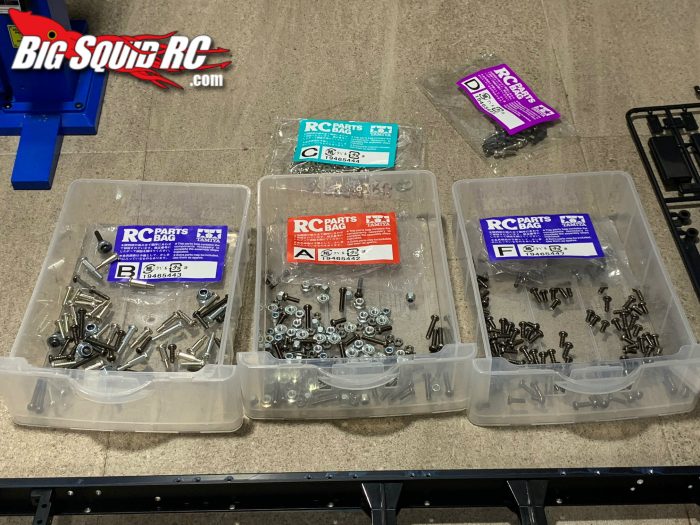 Even though I have just stared the King Hauler build, it is my favorite kit to date so far. The parts are all correctly marked, and the instructions are laid out great. Tamiya provides more than enough grease and thread lock to finish the build. Just make sure to get the DSM Off-Road Bearing kit for the King Hauler, the bushings Tamiya gives you are not the best. As of now I have the frame built and the diff gears finished up. This weekend is going to be a wet one so we should be able to put in some scale shop work on the King Hauler. Check out the King Hauler Build video part one and stay tuned for more!
Make the most of your weekend and get some RC time in, no matter if its 5 mins or 5 hours. I have a Top-Secret mission for Big Squid this weekend and I plan on making the most of it!  till next week have a great weekend and Happy Memorial Day!