EVERYBODY'S SCALIN' – TRAXXAS BIG RIG DREAMS.
By now I think its safe to say that most people have seen the Traxxas Snap-on edition flatbed 6×6. Traxxas has done a few promotional rigs for Snap-On in the past and most of them end up on E-Bay extremely expensive. Until now, I never took an interest in any of them, but the Traxxas 6×6 flatbed got my attention right away. I have had numerous discussions on how there needs to be an RTR semi that won't break the bank and be user friendly. This gave me some hope after seeing the Traxxas flatbed 6×6, the TRX platform is very popular and parts can be found anywhere, so will we see a Traxxas Semi that will be available to everyone?
If this conversation has never came up in one of Traxxas's underground meetings, then something is wrong. Traxxas could capitalize on the growing semi community by simply doing what they have done with the TRX4. For example, having different versions like a flagship, basic or even builders kits would not only let you have your pick depending on your budget but could also get more people who have wanted a semi but might not have the time to do one of the kits that are available now. And not only make it dedicated to off-road, there could be an over the road model that comes with street tires. The amount of possibilities is something worth looking into.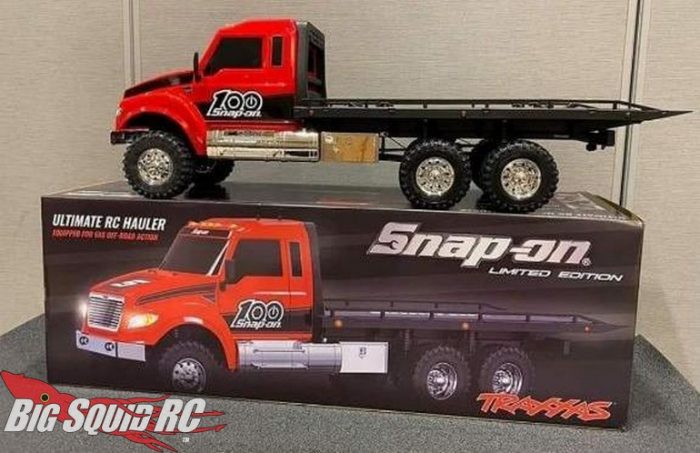 And lastly, could you imagine the accessories? Traxxas is good at keeping existing rigs looking fresh, tons of body options along with grills and you can't forget the lighting kits. Then, you have all the after-market accessories that could be trailers, interiors, bodies, tires, scale wide load signs… you get the point. And no, I don't have any insider info from Traxxas or anything along those lines, the images of the Traxxas Flatbed 6×6 has gotten my curiosity running wild with hopes that Traxxas is planning on releasing something within that realm.
That about wraps up these weeks Everybody's Scalin'. Next week we will be live from The Ultimate Scale Truck Expo so be on the lookout for our coverage. Till next week, have a great weekend, and keep scalin'!