Everybody's Scalin' – Tuff Trucks
This week I wanted to share a winter project with you. Yeah, I know it's not technically winter, but still. Close enough.
My group of friends has long been wanting to add a "tuff truck" class to our monster truck racing club. For those unfamiliar with what that is, it's a form of full size off-road racing that's popular on the county fair circuit. It also used to be a side attraction at stadium monster truck shows, but it's sort of fallen out of favor for that in recent years.
Anyways, the basic idea is your average Joe brings a lightly modded 4×4 to an off-road track, and races it against similar vehicles in a time trial competition. Emphasis on "lightly modded". They are pretty much just daily driver style rigs sent over jumps and bumps, many times destroying the vehicle in the process. It's a lot of fun to watch! Here's a video of a recent competition.
As you may of guessed from the header pic, we decided on the Tamiya CC-01 for the class. The reason is because they are relatively cheap, are offered with many different body styles and the (lack of) suspension should react very similar to a full size tuff truck when being hucked off a ramp.
We are keeping the rules simple. You must run a stock CC-01 chassis, tires no bigger than 4″ tall and the silver can motor must be run. 2S LiPo is required as well.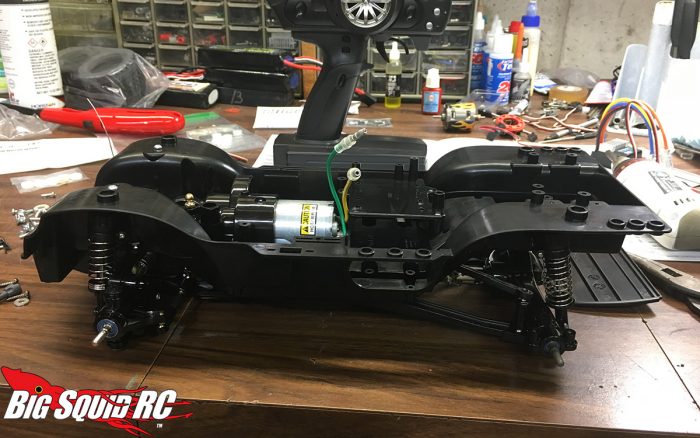 I'm building the Landfreeder and, as you can see here, it's close to completion. The truck has small oil shocks, a solid rear axle and front independent suspension. Pretty cool little build! It's something I've always wanted to do but never had the reason.
The plan is to race them on the monster truck track, letting them run each lane and recording times. Lowest combined total will win. This should make for great carnage.
Our outdoor racing season ends shortly, so we will kick off the Tuff Truck class in early spring. Hopefully these things hold together! If they don't, well, that's just part of the fun. I'm looking forward to destroying several of these things with my buddies!