EVERYBODY'S SCALIN' -ULTIMATE SCALE TRUCK EXPO!
Most of you know by now I got a chance to head down to the Ultimate Scale Truck Expo in Williston Florida last weekend. I even tried to do a live feed of last weeks' Everybody's Scalin' and I do apologize, my service was not the best down there; give me a break I'm not channel 7 news Lol. In the weeks leading up to the event I wasn't sure what to expect. I figured I'd see a handful of RC4WD Trailfinder 2s, a bunch of Axial rigs, and some TRX4s, stuff like that. I also figured there would be a few small trails you could run. Once I arrived my mouth dropped in sheer awe of what I was about to be a part of.
Let's start at the beginning of Big Squid RC's USTE 19 adventure!
The night before the main event started there was a special invite dinner at Rob Mathews house. Rob is one of the founding members, if you will, of USTE. When I arrived for dinner I met Cory Verne, another founding member of USTE, and also the man who contacted Big Squid RC and invited us down. He brought me around and started introducing me to everybody and right off the bat I see Mike Lohmann, from Mike's RC world, knuckle deep in an SMT 10 prepping it for the monster truck races. J S scale was sitting on the couch watching Finding Nemo and GCM Racing were in a camper outside hanging out. Needless to say I was a little star struck. Throughout the night more and more people started to pour in. I'm not talking about "oh there's John from down the street" I'm talking about "hey, there is Tom Allen from RC4WD or Scalerfab or there's Josh Dutton from RC Everyday and Reef from Reefs Servos". A lot of big names we're floating all over. It was a nice ice breaker to start off the weekend and the food was fantastic!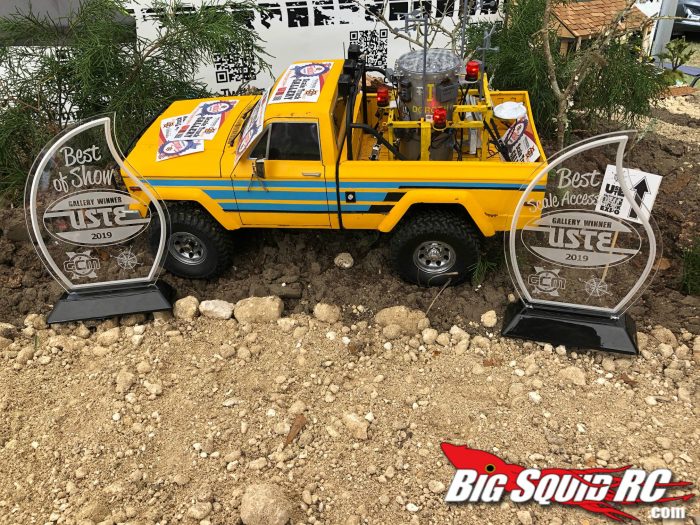 Day one the gates opened at 8 am for vendors. The whole event took place in a botanical garden which is beautiful by itself. Once I had the Big Squid RC booth set up Rob and I walked one of the trails before the public started to arrive. I was a little worried because if you saw Big Squids unboxing of the Axial Yeti Junior you would know I have a fear of snakes. And the entire grounds looked like a snake terrarium at the zoo. After walking for about 15 minutes on trail two I started to realize these are not little trails. Everything was groomed specifically for doll house trucks, as Rob calls them. By that I mean super scale rigs that you really wouldn't use at a comp or anything like that. After completing my walk-through of trail two a wave of tranquility rushed over my body. The scaler inside me was at home and ready to start the day. Now USTE is ran a little different compared to other events I've been to. There are no score cards, no rules or specs your rig must meet. It's a massive fun run in a laid-back atmosphere. A few big-name vendors are there and even some smaller companies are represented too. But the companies are not there to sell their product for the most part. They are there to connect with the public. Because without the people to buy the products this hobby wouldn't be what it is today. Having the opportunity to walk up to a vendor and talk face-to-face one on one is astronomical. Once the trails were officially open I grabbed the farm truck and headed to trail six to get some much needed wheel time. Walking the trails is one thing, actually driving a rig on them was a completely different ballgame. I just couldn't get over the fact how well the trails were designed for these little rigs. Every rock was purposely placed, every berm, every scale wash out was man-made to perfection. If I estimated a timeline on how long it would take you to run just one of the trails I would say about an hour or so. And there were nine different trails, each one had their own geography.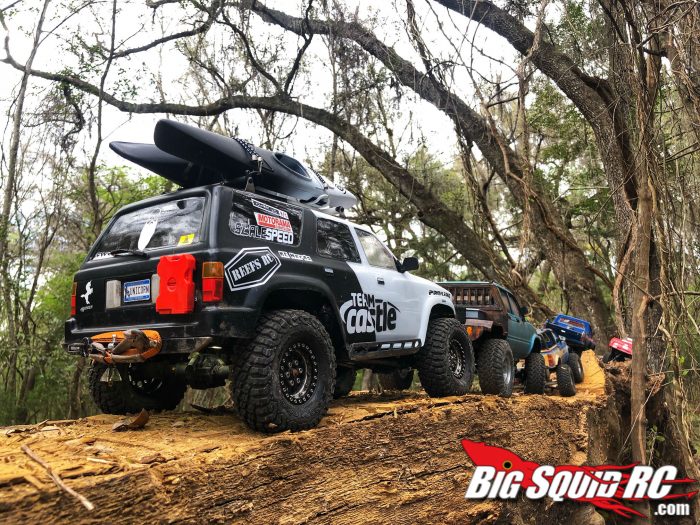 Other then the main focus point of scale crawling there were a few other events that took place at this years USTE. Day one had a wicked truck gallery and when I was asked to be a judge I was more than honored to do so. That being said, it was one of the hardest things I have ever had to do. So many talented master builders pour their heart and soul into their builds. To all those who won you truly deserved it! Day two had vintage buggy racing and monster truck racing. Seeing those old forgotten buggies rip around the track was very cool. There was also a mud bog that would put Trucks Gone Wild to shame.
Day three had a bash event but sadly I had to leave before that started so I could make my flight back home. And of course, I missed the viral vid of Nick Barber's Losi Super Rock Ray face planting into the USTE ramp!
There were also classes offered during the weekend; for example, a styrene class, weathering class and a soldering class. And having some hobby shops in vendor row was definitely a good thing to have on site. I ended up buying from Remote Control Hobbies of Orlando and RC Addicts! Both those shops were well stocked with whatever anyone could need. For that, I thank both shops for helping me get my start on next years USTE build. But if my wife asks I won it all in raffles. And I have to give a big thanks to Bowhouse RC and Pitbull tires for hooking us up with some sweet stuff along with Max Amps batteries. Without Max Amps help and support my rigs would've never moved. The batteries they sent down for us were fantastic to the point were I don't want to use any other batteries from now on. And Scalerfab for inviting me to dinner the Squid was good!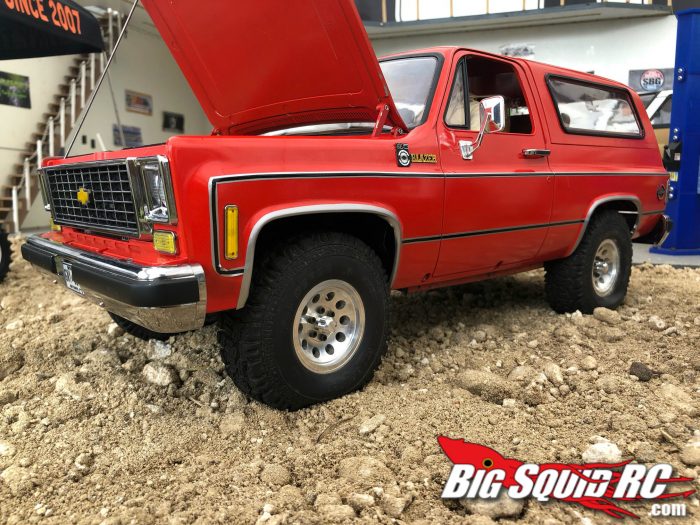 The last day had to be one of the hardest. For the mere fact that this amazing event was coming to a close. Meeting all the fans of Big Squid RC along with meeting some Facebook friends for the first time in person made it really hard to go back to the 1.1 world. If you saw me on the trail chances are you saw me with Josh Dutton from RC Everyday. I have been a big fan of his for a long time and we hit it off right from the start. That's what this event does, it let's you connect with people you normally wouldn't meet. If you are a RC company and you get the call from USTE you better answer that call. If you don't, you are losing out! If I could describe The Ultimate Scale Truck Expo in one word it would be "inspirational". USTE inspires you to build better rigs and try new ideas and techniques to get you builds on that next level. Being able to bounce ideas off of the big names in the RC world was wonderful. I know I learned a lot in the time I was there.
Big Squid RC thanks the entire crew from USTE for the hospitality and kindness that was shown to us. And we will be back next year, you can count on that! So, here's to USTE 20, time for me to get started on next years builds. As always have a great weekend and keep Scalin'!
For more info on the event you can check out the Ultimate Scale Truck Expo (USTE) site.
Want to see some sweet videos from the event? You can watch the Hitting the Trail Video at that link… and the Scale Truck Gallery Video there.